Preventive Maintenance Services for Healthcare Equipment
Regularly servicing your equipment with STERIS recommended preventive maintenance helps to extend the useful life of the equipment and minimizes equipment breakdown.
The Joint Commission (TJC) requirements for preventive maintenance are changing.
Are you ready for your next TJC audit?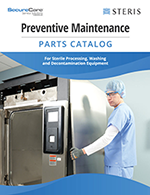 Need help identifying Preventive Maintenance Parts?
Download the digital Preventive Maintenance Parts Catalog to identify the parts needed to stay compliant and keep equipment running at peak performance.
Unmatched Responsiveness and Expertise with STERIS Service
Performing preventive maintenance on your surgical and sterile processing equipment requires more than just OEM replacement parts. With an average of 12 years of experience and over 200 hours of training, SecureCare Service Technicians provide the knowledge and expertise to perform thorough Preventive Maintenance on your equipment. Each SecureCare® Service Technician's trunk is stocked with the right STERIS OEM parts to provide on-time preventive maintenance and industry leading first-call fix rates.