ConnectAssure Technology is a digital data management system that collects cycle information from STERIS equipment and displays results in a hospital instrument tracking system or the ConnectAssure software application. ConnectAssure captures and organizes sterile processing data in real-time and automates the collection and transfer of cycle tape and biological indicator results. ConnectAssure aids in sterile processing department (SPD) record keeping, infection control monitoring and workflow management, ultimately promoting compliance throughout the facility. With this sterile processing information system, your department can confirm that every sterilization cycle is successfully completed. Technicians have access to past cycle history and daily workflow to better maximize productivity.
How ConnectAssure Technology Works
ConnectAssure Technology acts as a hospital's sterile processing tracking system by directly connecting your STERIS products to your hospital's network through an Ethernet cable connection. This electronic record management system features multiple secured network capabilities. No Health Insurance Portability and Accountability Act (HIPAA), Protected Health Information (PHI), or Patient Card Industry (PCI) data is captured, stored, or transmitted through this infection control tracking system. ConnectAssure Technology keeps data safe through cybersecurity measures such as individual user logins with role-based categorizations, tokens, certificate-based authentication, and encryption for data in transit. The sterile processing information system runs on your network and a separate Virtual Local Area Network (VLAN) for added security.
Why ConnectAssure Technology?
The ConnectAssure digital data management system for infection control monitoring in the SPD:
Acts as a conduit connecting results from STERIS products to the hospital's instrument tracking systems
Aids in sterile supply management and SPD record keeping
Helps keep sterile processing equipment operating at peak performance by providing reminders for required testing and maintenance such as leak tests and regular sterilizer chamber cleaning
No Instrument Tracking System? No problem.
ConnectAssure Technology provides an easy-to-use interface with in-depth insight into your STERIS equipment usage.
Server
Both physical and virtual servers are supported
Memory: 8 GB, Minimum 4 GB for export only option (16 GB+ recommended)
120 GB minimum disk size (including OS)
Windows1 Virtual Server 2016 R2 or higher – 32 bit and 64 bit supported (Windows 10 acceptable)
CPU: Dual 3.2 GHz multi-core processors or higher
Application Software
For ConnectAssure Data Export Only:
Remote capability: Remote access via VPN or similar is required for support.
For ConnectAssure Application:
IIS 8.0 or above
SQL Server Express (SQL Server Standard or higher optional) v2017 or above. Hospital provided SQL Server Standard.
Remote capability: Remote access via VPN or similar is required for support.
PC or Tablet Requirements
Internet Explorer 10 or higher, Google Chrome, Mozilla Firefox, Apple Safari
Screen resolution of 1440 x 900 or higher
Memory: 2 GB minimum
Optional Hardware
Barcode scanner – 2D for scanning matrices or 1D for scanning linear barcodes
Flatbed scanner – For scanning/attaching documentation
Network printer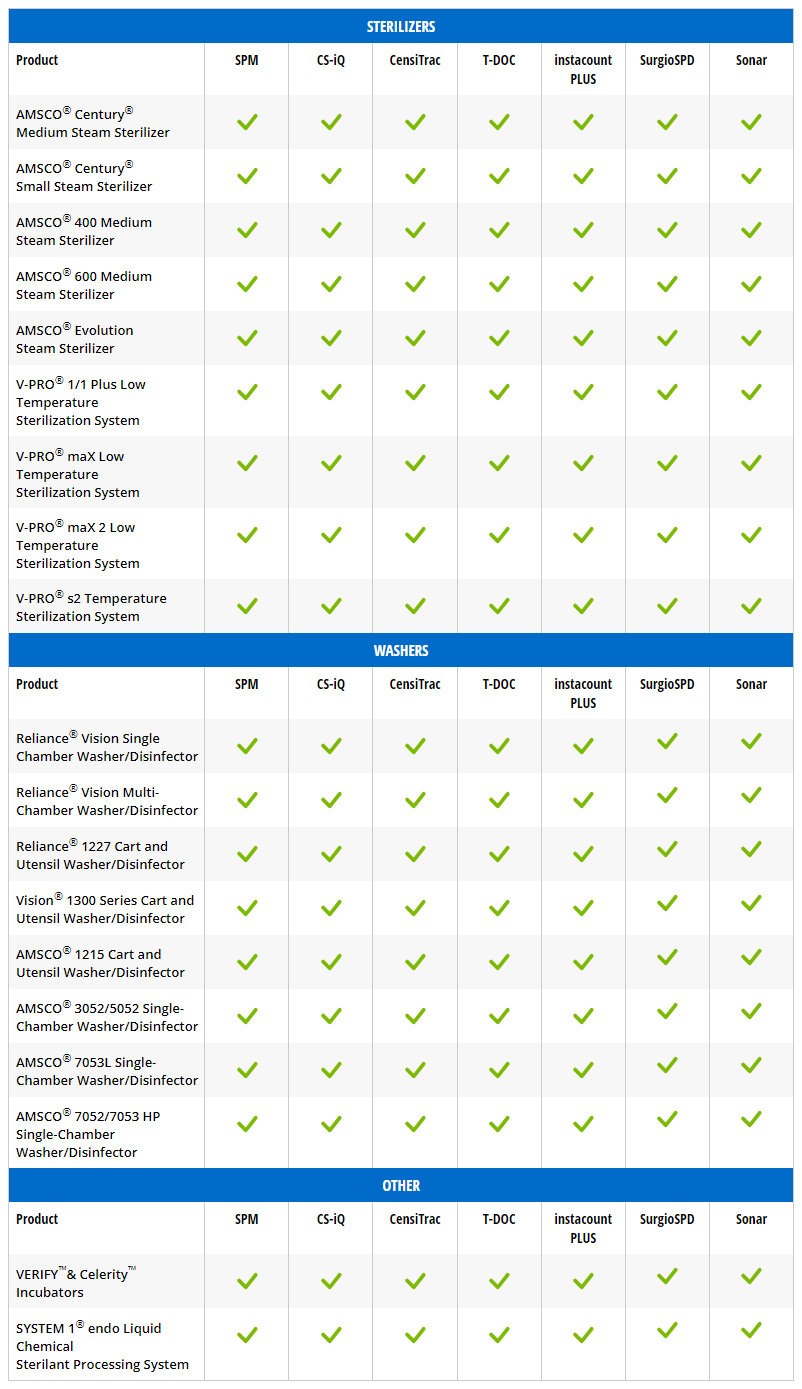 Steam Sterilizers (Autoclaves)
V-PRO® Low Temperature Sterilization Systems
Washer/Disinfectors
TECH DATA SHEET

Document #
Document Title

M11267EN

CONNECTASSURE TECHNOLOGY DATA EXPORT TECHNICAL SPECIFICATIONS