CLEAN FLOW™ PRO
0.1 micron filtration
Additional condensation removal from steam lines
Helps to minimize wet packs and rejected instrument sets
Smaller footprint & easier filter replacement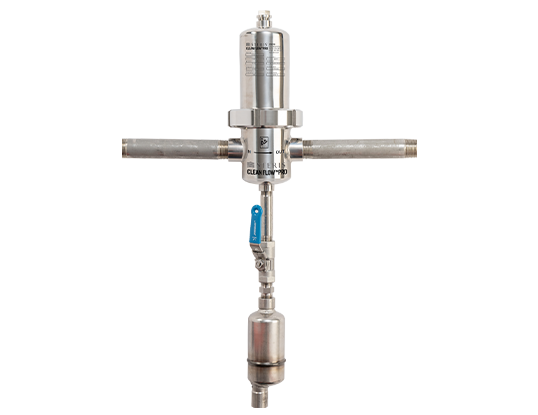 Product Overview
CLEAN FLOW™ PRO Filter Assembly optimizes steam quality with an industry-leading standard 0.1-micron filtration. The innovative design helps maximize filtration with a smaller footprint. CLEAN FLOW PRO is a practical, cost-effective approach to address finer filtration needs.
How CLEAN FLOW PRO Works
This filter safeguards sterilizers from finer particles and contaminants, helping to prevent surgical instrument staining and wet packs, improving overall steam quality. The full assembly includes a 7" filter element designed with a pleated, stainless steel mesh surface. This results in a maximum surface area to capture finer particles throughout the media, preventing transfer to steam. An insulation jacket wraps around the steam filter to help maintain temperature helps maximize efficiency.
Why CLEAN FLOW PRO?
Removes potential solid and liquid contaminants as small as 0.1 micron that contribute to instrument staining and rejected sets.
Provides additional condensation removal in steam lines that can lead to wet packs.
Optional reverse/inverse installation allows for accelerated removal of condensate. This configuration may also reduce or eliminate the need for an additional steam separator at the point of use.
The included jacket helps to maintain steam temperature helps maximize efficiency.
Easier replacement and cleaning compared to traditional ceramic filters.
Recommended replacement is required only once per year.*
Can be used with all STERIS steam sterilizers and stand-alone generators.**
Contact your STERIS Equipment Service Technician to learn more and request a quote.