Guide to Ultrasonic Cleaning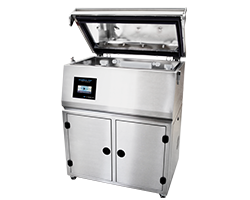 What is Ultrasonic Cleaning?
Cleaning is the most important step in reprocessing a medical device. Without adequate cleaning, disinfection and sterilization can't be performed effectively. Ultrasonic cleaning can be particularly useful for hard to reach areas on a device, such as on fine serrations or box lock joints, but it can also be gentle on delicate instruments such as microsurgical and ophthalmology devices.
How Does Ultrasonic Cleaning Work?
The ultrasonic cleaning process uses mechanical vibrations to agitate a solution to aid in the removal of soil from surfaces, and in some cases inside lumens, of surgical devices. The sound waves in the liquid produce microscopic implosions of bubbles that collapse on contact with surfaces, creating a vacuum-like scrubbing action dislodging soil from surfaces; this effect is called cavitation. The cavitation then removes bioburden from the surface of the items submerged in the chamber.
Ultrasonic cleaning systems provide effective cleaning using a combination of three parameters:
Cavitation
Flow/Sonic Irrigation
Detergents
The right combination of these parameters provides an efficient cleaning system for delicate and difficult-to-clean medical devices such as Minimally Invasive Surgical (MIS) instruments, laparoscopic devices and robotic surgical attachments.
Explore our Large Capacity Ultrasonic Cleaners
Cavitation and Ultrasonic Cleaners
The efficacy of the cavitation process is dependent on the design of the ultrasonic system and particularly on the ultrasonic frequency (measured in kilohertz, kHz) and power density. When buying an ultrasonic cleaner, you want to ensure that the frequency and power density are appropriate for medical devices you'll be processing by checking with your most common device IFUs.
How the cavitation bubbles are generated is also important. For example, older technology uses metal transducers while newer designs use ceramic transducers that are gentler on devices. Some systems mount the transducers to the bottom of the tank which is effective at removing soil on a single layer of instrument trays. Since the ultrasonic waves are coming up from the bottom, the cavitation will be more effective imploding on the instrument surfaces placed on the first, most immediate tray that it will encounter, which will not be the case for the instruments placed on the second or third tray. Large ultrasonic cleaners however, mount transducers to the sides of the tank, allowing multiple layers of trays to be cleaned effectively.
Flow and Sonic Irrigation
Some ultrasonic cleaners also offer flow, or sonic irrigation. Flow of solution through a device allows for more efficient cleaning of the internal channels of lumened or cannulated devices, while the use of pressurized flow can provide additional mechanical cleaning.
Lumened or cannulated devices cannot be expected to be cleaned in standard ultrasonic cleaning systems. STERIS Innowave Ultrasonic Irrigators have sonic irrigation capabilities, allowing the ultrasonic energy and cavitation to work on both the exterior and interior of the devices processed.
Some cleaning validations for specific complex surgical instruments require a minimal pressure for the flow, which also becomes a key parameter to ensure the bioburden is removed from within the instruments. The combination of a high pressure flow and the ideal ultrasonic cavitation does result in an efficient method to ensure detailed and complex instruments are reprocessed effectively.
Detergents for Ultrasonic Cleaning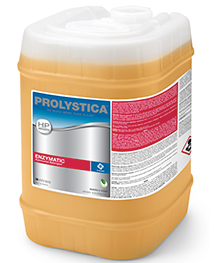 Choosing a cleaning chemistry is an important component of the ultrasonic cleaning process. These detergent-based products should provide cleaning, be effective over a range of different water qualities, not harm the device while simultaneously protecting the device from damage over time, be easy to rinse and be compatible with the ultrasonic cleaning system. Prolystica Instrument Cleaning Chemistries go beyond cleaning to meet all these requirements.
Consider using a chemistry that's specifically formulated and designed for ultrasonic cleaning. The Prolystica HP Enzymatic Detergent is formulated specifically for automated washing, designed with a low-foam profile for use in sonic washers or washer/disinfectors.
Benefits of Ultrasonic Cleaning
Many devices in the surgical environment today are intricate, delicate and complex in design. Without a form of automated cleaning, Sterile Processing Department staff must clean the nooks, crannies and hinges by hand, consuming their valuable time.
Ultrasonic cleaning provides a safe, effective way to clean multiple surgical instruments at once, from delicate ophthalmic and laparoscopic devices to heavy orthopedic instruments. The ultrasonic cleaning process allows for scrubbing action to reach small crevices, irregular surfaces and internal passages, without damaging the intricate device. Ultrasonic washers are designed to dislodge challenging soils from the surface and lumens on instruments and provide consistent cleaning results throughout the washer chamber.
Ultrasonic Cleaning Recommendations
Ultrasonic cleaning systems should be installed, used and maintained in accordance with manufacturer's instructions. This will include the use of specific detergents for cleaning, and adherence to recommended preventative and routine maintenance.
The following recommendations are given for the safe and effective use of ultrasonic cleaning systems:
Gross soil should be removed (pre-cleaned) from the device prior to cleaning in the ultrasonic cleaner and lumens brushed/flushed.
Surgical instrument cleaning chemistries should be designed for use in ultrasonic systems
Degassing of freshly prepared cleaning solution is generally recommended before processing devices, following manufacturer's instructions.
The device instructions for use should be consulted to ensure compatibility. Some devices/materials of construction (such as certain types of adhesives on optical components or rubber) are not recommended for sonication due to the risk of damage to device components. Devices that contain metals such as brass, copper, aluminum, or chrome-plate may not be compatible if mixed with other device materials such as stainless steel.
Cleaning solutions should be frequently changed, preferably with each use and always before processing ophthalmology instruments.
Periodic verification testing of the sonic unit is recommended to confirm that the cleaning process is functioning properly. This will include daily maintenance and periodic service maintenance, or the use a cleaning verification indicator like the VERIFY Ultrasonic Indicator.
A combination of all these variables in ultrasonic cleaning systems can provide an optimal cleaning process for devices.