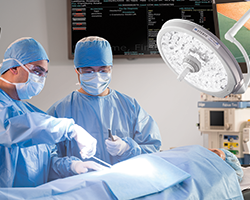 The Complete Guide to Surgical Lights
What are Surgical Lights?
Surgical lights, also known as surgical lighting or operating lights, are mainly used in hospital operating rooms and ambulatory surgery centers, but can also be used in various locations throughout the facility to provide high quality lighting for procedures. Examples include emergency rooms, labor and delivery, examination rooms, and anywhere where procedures are completed. They are used by clinicians, surgeons and proceduralists. A surgical light illuminates the operative site on a patient for optimal visualization during a procedure.1 Surgical lights can provide hours of bright light without excessively heating the patient or staff. A variety of lights are available to meet the needs of providing optimal visualization during surgery and procedures. An examination light is used during medical exams, while operating room lights are used during surgical procedures.
History of Surgical Lights
Before electricity allowed lightbulbs to illuminate an operating room, candles were used as a light source during a procedure. Additionally, surgeries were performed during daylight hours so surgeons could use the natural sunlight for illumination.2 Surgical lights as they are recognized today have evolved over more than a century since electricity was first discovered in 1879, with surgical light manufacturers continuously working to improve lighting conditions for surgeons and OR staff.
Types of Surgical Lights
There are various types of surgical lights, and each type plays specific roles in illumination before, during, and after a medical procedure. They can be categorized by lamp type or mounting configuration. Two lamp types are conventional (incandescent) and LED (light emitting diode).
Surgical lighting configurations may include ceiling-mounted, wall-mounted, or on floor stand. Depending on the model, a surgical light may also be used in all three configurations.1 A ceiling-mounted light can be mounted on a fixed point on the ceiling of a procedure room. Similarly, wall-mounted lights are mounted on a wall of the OR. The wall-mounted configuration is more often used with examination lights versus surgical lights. For greater mobility, floor standing surgical lights are standalone and typically on wheels enabling them to move room to room. Mobile floor standing lights are often used in examinations. All three types play an important role in illuminating a surgical site during a procedure.
Explore our Surgical and Examination Lights
Requirements for Surgical Lights
Surgical light requirements vary depending on the type, brand, and model of the lighting system. The brightness of a surgical light head is measured in Lux and typically does not exceed 160,000 Lux. The approximate dimensions are 400-700mm for a lighthead diameter and the approximate weight is 45kg. The weight can vary depending on the number of light heads attached to the system. The lifespan of a surgical light is measured in its L70 value, which is how long the light will last until its brightness is 70% of its original value. Today's surgical lights typically last between 40,000 to 60,000 hours of use.
Surgical Lighting Accessories
Accessories for a surgical light can be utilized to complement, or add on to a surgical light system after it is initially purchased and installed. Accessories can encompass a multitude of different products but certain ones are typically available with the purchase of a surgical lighting system. Crucial attributes may include (but are not limited to) the ability to add an ambient light to a surgical light mount, the ability to add a free-standing camera for recording and/or teaching purposes, the ability to add a single or dual monitor mount, or the ability to add a radiation shield. Other accessories may include sterile light handle covers that can be utilized to maintain a sterile environment where a surgeon still has control of the function and position of the position, intensity, and spot size of the light from the handle of the light.
Where to Buy Surgical Lights
Because surgical lighting is complex, sophisticated and often customized for an operating room or examination room, the purchase of this equipment can be a multi-step process. Ensuring a procedure room has the necessary type of surgical light or exam light is a main factor in performing successful and safe procedures. Staff tasked with purchasing equipment for their facility may consider factors like brand, service support, long-term and short-term cost and environmental sustainability when deciding on which surgical lighting systems to purchase.Typically, a sales representative or distributor helps to facilitate the buying process of operating room lights.
1. http://www.who.int/medical_devices/innovation/hospt_equip_17.pdf
2. http://www.uphs.upenn.edu/paharc/tour/tour5.html