The HexaLux Exam Light is a powerful, next-generation LED exam light designed to be used in a multitude of rooms including the exam room, birthing suite, or intensive care unit.
Lasting LED power
The HexaLux Exam Light has a high R9 value — 97 — and 65,000 Lux designed to last over 50,000 hours. With its 16 LEDs, the HexaLux Light provides a competitive, affordable option for exam room lighting needs.
Design versatility
The HexaLux Exam Light's design includes five light intensity levels and configurations that mount to the ceiling, wall, rail or mobile unit, while the modular design and partial assembly of the unit allows for a quick installation and less room downtime. The mobile unit offers various accessories, including a shelf, basket, and retractable power cord, providing flexibility and organization of supplies when moving room to room.
Sterilizable, centrally controlled handle
For ease of use, all of the light's features are controlled from a central handle, which can be removed and sterilized for use in minor surgical procedures.
| FEATURES | HEXALUX® EXAM LIGHT SPECIFICATIONS |
| --- | --- |
| Light intensity | Up to 65,000 Lux |
| Pattern size | 5.5" to 8.1" (14cm to 20.5 cm) |
| Color temperature | 4,400 K (+/- 6%) |
| CRI (Color Rendering Index) | 95 (+/- 6%) |
| R9 (deep saturated red color index) | 97 (+/- 6%) |
| Average LED bulb life | 50,000 Hours |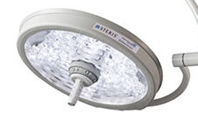 VIEW SERVICE PARTS
By choosing genuine STERIS OEM replacement parts, you can be assured that each and every part is chosen based on the highest quality standards to ensure your equipment functions at its best. STERIS's OEM replacement parts promote compliance with regulatory requirements and organizational standards on equipment maintenance and repair.