4 Steps to Make the Switch to a V-PRO® Low Temperature Sterilization System
You've made the decision to change from one low temperature sterilizer to another after considering multiple factors and finding the ideal solution for your Sterile Processing Department (SPD). In a head to head comparison, V-PRO® beat STERRAD®* in both Throughput and Material Compatibility – two important factors considered when Sterile Processing Departments look to maximize productivity and minimize costs.
When your facility decides to make the switch to STERIS's VHP solution, follow these steps for a smooth and easy transition:
Determine Device Compatibility
Install the V-PRO Low Temperature Sterilizer
Update Sterile Processing Department Policies, Procedures & Tracking Systems
In-Service Staff & Ongoing Support
Device Compatibility with V-PRO Low Temperature Sterilization Systems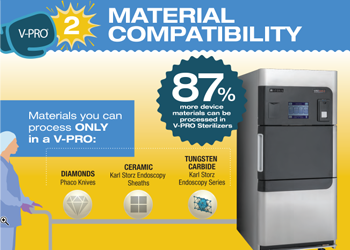 Device manufacturer's Instructions for Use (IFU) are the first place to look when evaluating whether a specific reprocessing solution is compatible for processing a device. Occasionally, however, you may come across an IFU that could leave you with questions around device compatibility. V-PRO Sterilizers have been validated to process 43 materials including diamonds, gold, ceramic and tungsten carbide, 87% more than similar competitive sterilizers.** Confirm your medical devices and accessories are compatible with STERIS VHP solutions by using STERIS's Device Compatibility Matrix, which can help you make informed decisions about your device inventory. After confirming a specific device is compatible, STERIS provides a compatibility letter for your records. Search for your devices
What if my IFU says "STERRAD"?
Occasionally, a device IFU will expressly state "STERRAD." However, this doesn't mean the device can't be processed in a V-PRO Sterilizer.
If the IFU recommends STERRAD, this is likely because that sterilizer was initially evaluated to reprocess the device by the original equipment manufacturer (OEM). However, if the device falls within the claims of the V-PRO Sterilizer's indications for use, the V-PRO Sterilizer may be used for reprocessing the device.
Customers are encouraged to reference the STERIS V-PRO Device Compatibility Matrix for a full list of compatible devices. The decision to process these devices in a V-PRO Sterilizer would be the type of informed decision recommended by AAMI ST81, pg. B.
Install the V-PRO Low Temperature Sterilizer
TIP:
When switching to V-PRO Sterilizers, your facility will need to change the electrical outlet. While both STERRAD and V-PRO Sterilizers use the same type of 220 AMP service, the plug is different.
V-PRO Sterilizers are freestanding and only require an electrical outlet, simplifying installation. Plumbing or construction is not required for installing a V-PRO Sterilizer in the SPD. When choosing a location, make sure you install the V-PRO Sterilizer in a spot that helps optimize the process and workflow of your SPD.
Beyond electrical requirements, it is recommended to have a network drop available so you can connect your V-PRO Sterilizer and surgical instrument tracking system. This will provide seamless sterilization load tracking and help you get immediate cycle information. Go a step further and connect your Celerity™ HP Incubator to track Biological Indicator (BI) results for essential, comprehensive compliance reporting.
After installation, get up and running in as fast as 90 minutes by processing a BI challenge pack in only 3 Fast Non Lumen Cycles (a cycle unique to the V-PRO® maX 2 Low Temperature Sterilization System) to meet requirements of qualification testing per ANSI/AAMI ST58 Sec. 9.5.4.4.1.
Additional Resources for V-PRO Sterilizer Installation and Maintenance
Architects, hospital equipment planners, engineers and consultants can access detailed technical equipment information for V-PRO Sterilizers such as equipment drawings, CAD Blocks, and Revit family objects as well as SPD room layout templates on the STERIS Architect Portal.
Update Sterile Processing Department Policies, Procedures & Tracking Systems
Review your existing healthcare facility policies and procedures and update them to encompass the new VHP sterilization system procedures. Reviewing the updated sterile processing policies, prior to in-servicing your new system with sterile processing technicians, will help get your transition in motion.
Another important element when transitioning to a new sterilization system is updating your surgical instrument tracking system. Simply export devices, and update from STERRAD cycles to compatible V-PRO cycles. When doing this, you may find an opportunity to add more medical devices to V-PRO cycles, – allowing you to quickly process devices that may have previously been set up for only Ethylene Oxide (EO) or that need a quick turn, compared to steam sterilization.
Provide In-Service Staff Training and Ongoing Support
STERIS provides free online in-service training videos to support V-PRO Sterilizers that can be used to acclimate staff prior to performing in-person training. Once each technician completes the online portion of the in-service training, they have the option to complete a test and print a Certificate of Completion for their education files. This can also be used a part of your facility's annual competency review. Visit STERIS's Online In-Service Tools
In addition to online tools, V-PRO maX 2 and V-PRO s2 Low Temperature Sterilization Systems offer on-screen reminders and training videos directly on the sterilizer system screen to help troubleshoot on the spot.
During in-service training, SPD staff will learn about three key differences between STERRAD and V-PRO Sterilizers:
No restrictions on shelf usage to help you maximize sterilizer throughput by utilizing both shelves on all sterilization cycles. Get the most out of your cycle and sterilizer!
No sensors or plasma coil to worry about damaging, and accidental contact by load shifting will not cause cycle aborts.
On-screen reminders for oil changes and required regular preventive maintenance. Ensure your sterilizer is ready when you need it!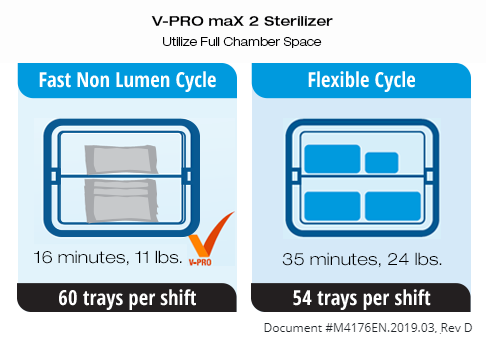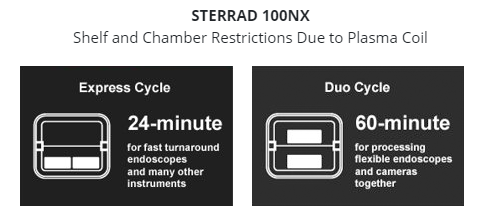 For Biomedical or Service Department Staff: STERIS offers hands-on, instructor-led and online service training courses for V-PRO Sterilizers. Self-paced, instructor-facilitated classes are held at the Technical Training Center in Mentor, Ohio and feature both self-directed training and hands-on training, giving the technician hands-on practice with operations, preventive maintenance (PM) and component repairs for V-PRO Sterilizers. On-site, custom training courses are delivered at your facility using your V-PRO Sterilizer and cover safety, operation, component locations and functions, and PM requirements. Online training courses offers the flexibility of self-paced remote learning and covers basic operation, controls, piping, preventive maintenance and troubleshooting for your STERIS VHP sterilizer.
Switching from a STERRAD system to a V-PRO Low Temperature Sterilization System is easy. With validations to reprocess 87% more device materials, higher weight limits and more usable chamber space, the switch to a V-PRO Sterilizer can help maximize your SPD's throughput, while keeping your operating costs low.
Learn more about STERIS V-PRO Low Temperature Sterilization Systems
Related Resources
*STERRAD is the registered trademark of Advanced Sterilization Products.
**When compared to STERRAD® Systems and Sterizone® VP4 Sterilizers, as of August 24, 2020.