The Dabir Surface system utilizes a pressure filled overlay and acts like an alternating air pressure mattress. It is placed over the top of the surgical table pad or Intensive Care Unit (ICU) bed surface and is connected to a regulated air pump controller. The system's low-profile overlay surface is comprised of rows of geometric air-filled nodes that alternate by inflating and deflating to provide tissue offloading. This allows tissue reperfusion to occur thereby preventing pressure injuries.
How the Dabir Surface System works
Dabir surfaces are engineered with small nodal geometry to minimize the problematic effects of immersion to promote healthy tissue perfusion and prevent pressure injury. The nodal geometry of the surface is designed to be small in scale. By minimizing the distance between areas of patient contact with the surface, skin stretch during alternating support immersion is reduced. This effectively addresses the number one factor associated with pressure injury formation: SKIN SHEAR.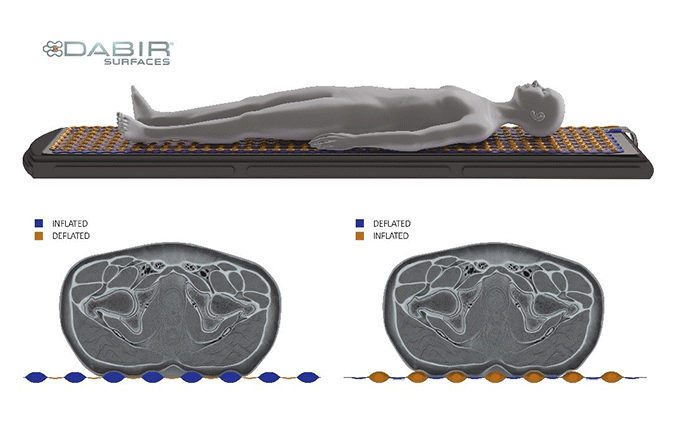 Why Dabir Surface System
Tissue Perfusion vs Pressure Management: Typical pressure management products work by distributing tissue pressure as broadly as possible over the most surface area thereby reducing the peak pressures to an acceptable level. The Dabir Surface System is not a pressure management product in this sense, Instead, the product uses alternating air pressure to allow blood to flow (perfuse) back into the tissues on the deflated channel. Clinical studies have shown positive results that tissue perfusing is a better technology than pressure management.

Minimal Patient Repositioning Needed (for Pressure Management): The Dabir Surface will change the way nurses interact with patients and will simplify workflows around patient positioning by reducing the need to reposition patients to avoid pressure injury. This is especially helpful when repositioning of the patient is not an option. The same applies in the ICU.

Reduces Risk of Pressure Injuries: Dabir Surgical Systems are well suited for patients undergoing surgical procedures exceeding 2 hours to prevent pressure injury (decubitus ulcers), or critically ill patients spending extended amounts of time in Intensive Care Units. ICU & Perioperative teams now have an effective solution for protecting patients at risk for pressure injury. The Dabir Surgical System has been shown in neurosurgery patients to lower hospital-acquired pressure injuries.

Reduces Cost of Pressure Injuries: ICU & Perioperative teams now have an effective solution for protecting patients at risk for pressure injury. The Dabir Surgical System has been shown in neurosurgery patients to lower hospital-acquired pressure injuries.
Surgical Table Compatibility:
Most North American Surgical Tables
Bed Compatibility:
OR System and ICU System include the following:
Pressure Controller (1 for OR and 1 for ICU)
Inflatable Overlays (various sizes)
MORE EFFECTIVE THAN STANDARD PROTOCOL:
The AP support surface was more effective at increasing sacral SBF over time than standard protocols, especially in participants with lower BMI who are at high risk for developing hospital-acquired pressure injury (HAPI). The tissue decompression observed during the deflation cycles may allow enhanced perfusion thus limiting risk for developing PIs from ischemia and constant loading.
OUTPERFORMS SACRAL DRESSINGS:
In lab testing, use of sacral dressing did not decrease interface pressure compared to OR pad alone condition. Use of the active Dabir surface lowered the IP values at the sacrum to less than 32 mmHg during the deflation cycles. The presence of the multiple layers in the sacral dressing did not decrease the IP values at the skin interface. IP values lower than 32mmHg is usually recommended to prevent occlusion of blood flow in the capillaries.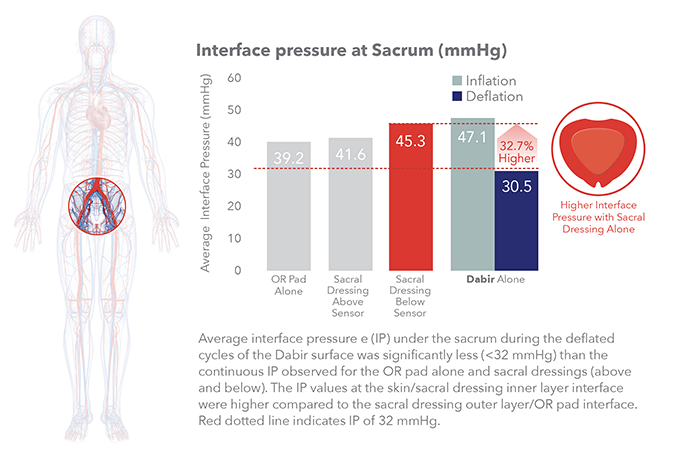 COMPATIBLE WITH COMMONLY USED GROUNDING PADS:
The effectiveness of electrosurgical procedures is dependent on having sufficient contact area between the patient and the grounding pad. Test data show that Dabir surfaces are compatible with popular commercially available grounding pads and provide effective periodic pressure reduction throughout the surgical duration.
DISPOSABLE PATIENT TRANSFER SURFACES:
Internal data demonstrated that the Dabir surgical surface is compatible with popular patient transfer devices when it is placed above the Dabir surface. The data also shows that the interface pressure during the deflation cycles of the Dabir surface is significantly lower than the continuous pressure observed with the patient transfer surface alone. Patient transfer surface should be deflated when the Dabir surface is used.
WHEN REPOSITIONING IS NOT AN OPTION:
In the perioperative setting, patients can be exposed to the cumulative effects of pressure beginning in pre-op through the intra-operative phase and into the PACU and ICU. It has been reported that 23% of all HAPIs are acquired intra-operatively during surgeries lasting three hours or more.3 Cardiac surgery patients are particularly at risk due to prolonged periods of time without the ability to reposition.4,5
THE HAPI's BURDEN TO THE HEALTHCARE SYSTEM:
In the United States, approximately 2.5 million hospital acquired pressure injuries occur each year that translates into treatment costs ranging from $750 million to $1.5 billion annually.6 While estimates vary, the average cost to treat late stage pressure injuries is often cited at $43,180.7
PERIOPERATIVE CARE:
When hospital acquired pressure injuries (HAPIs) occur in the perioperative setting they can negatively impact patient outcomes. Patients undergoing long procedures cannot reposition themselves, exposing them to cumulative effects of pressure. Deep tissue pressure injuries can present themselves 48-72 hours after surgical procedures.1 In some instances, root cause analysis has shown that the origin of the pressure injury took place in the operating room. A meta analysis conducted of surgical procedures for 5,451 patients showed a pooled 15% incidence rate for pressure injuries regardless of time or the type of procedure.2
References:
2 Hong-Lin Chen Xiao-Yan Chen Juan Wu. The Incidence of Pressure Ulcers in Surgical Patients of the Last 5 Years: A Systematic Review. Wounds Vol 24 Issue 9 - September 2012
4 Rao A.D. et al. "Risk Factors Associated with Pressure Ulcer Formation in Critically Ill Cardiac Surgery Patients: A Systematic Review," Journal of Wound, Ostomy and Continence Nursing. 2016;43(3):1-6.
5 Esch, Dianne, Scott Triggers: A Screening Tool for Pressure Ulcer Prevention in Surgical Patients, American Society of Peri-Anesthesia Nurses, June; 25; Issue 3; 186
7 Centers for Medicare and Medicaid Services (CMS), HHS. Fed Regist. 2008 Aug 19; 73(161): 48433-9084
| Product Number | Description | |
| --- | --- | --- |
| BF00101 | Dabir Patient Care Plus System Controller Kit | |
| BF00102 | Surface - ICU 33x84 W/Straps (5-Foot Hose Blue) | |
| BF00103 | Surface - ICU 33x84 W/Straps (10-Foot Hose) | |
| BF00104 | Dabir Stretcher Surface (5-Foot Hose) | |
| BF00105 | Dabir Stretcher Surface (10-Foot Hose) | |
| BF00106 | Power Cord - Facility - NA (15-Foot Latching) | |
| BF00107 | Dabir Crib Surface (5-Foot Hose) | |
| BF00108 | Dabir Crib Surface (10-Foot Hose) | |
| BF00109 | Dabir Surface Hose Assembly (4-Foot) | |
| BF00110 | Dabir Surface Hose Assembly (9-Foot) | |
| BF00111 | Dabir Surgical System Controller | |
| BF00112 | Dabir Surface - Surgical Narrow (1-Foot Hose) | |
| BF00113 | Dabir Surface - Surgical Narrow (5-Foot Hose) | |
| BF00114 | Dabir Surface - Surgical Narrow (30-Foot Hose) | |
| BF00115 | Dabir Surface - Surgical Standard (1-Foot Hose) | |
| BF00116 | Dabir Surface - Surgical Standard (5-Foot Hose) | |
| BF00117 | Dabir Surface - Surgical Standard (30-Foot Hose) | |
| BF00118 | Dabir Surface - Surgical Torso-Lithotomy (1-Foot Hose) | |
| BF00119 | Dabir Surface - Surgical Torso-Lithotomy (5-Foot Hose) | |
| BF00120 | Dabir Surface - Surgical Wide (1-Foot Hose) | |
| BF00121 | Dabir Surface - Surgical Wide (5-Foot Hose) | |
| BF00122 | Dabir Controller Mount - IV Pole Clamp | |
| BF00123 | Dabir Controller Mount - IV Pole Kit | |
| BF00124 | Power Cord - Facility - NA (10-Foot Latching) | |
| BF00125 | Power Cord - Facility - NA (10-Foot Non-Latching) | |
| BF00126 | Power Cord - Facility - NA (15-Foot Non-Latching) | |
| BF00127 | Dabir Controller Serviceable Air Filter Kit | |
| BF00128 | Dabir Fuse Drawer Kit | |
| BF00129 | Dabir Mount Bed Rail (Universal Strap) | |
| BF00130 | Dabir Surface - Surgical Short (1-Foot Hose) | |
| BF00131 | Dabir Surface - Surgical Short (5-Foot Hose) | |