How Can Rapid-Read Biological Indicators Maximize Productivity?
Rapid-read biological indicators (BIs) can improve productivity in the Sterile Processing Department (SPD) by keeping the process moving – especially when departments implement standardization and monitor every load.
Compared to a 24-hour BI, a fast-read BI
can give results in just 20 minutes – 72 times faster!
By enabling the release of sterilized loads faster, a 20-minute rapid-read BI allows the SPD to move on to the next task sooner.
With fast results, the SPD maximized productivity – while promoting patient safety.
Priscilla Reyes (RN, BSN, CRCST) Director of Sterile Processing at a university hospital in the Washington, D.C. area recently started using the Celerity® 20 HP Biological Indicator & Celerity® 20 STEAM Biological Indicator, each with a 20-minute incubation time. The decision to switch to a fast-read BI was based on knowing the results of the biological indicator faster so they could release loads sooner.
"In our department, we take pride in servicing our internal customer, providing clean and sterile medical devices for patient procedures" said Priscilla. "A 20-minute BI is a part of the technological advancements that has led to enhanced performance testing with our steam and low temperature sterilization." With faster results, Priscilla's SPD was able to maximize productivity while promoting patient safety.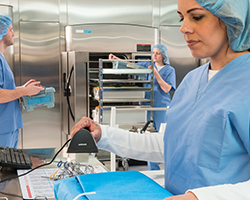 Busy Sterile Processing Departments can
optimize workflow with fast-read BIs
and standardization of process.
Standardization Can Optimize Workflow, Too
Priscilla is also working with her facility's Infection Preventionist to help raise the standard of care and optimize workflow with every load monitoring. "Currently we are not running a BI on every cycle for hydrogen peroxide; however, we are re-evaluating and conducting a risk assessment with key stakeholders based on ANSI/AAMI ST:58:2013 Section 9.5.4 – Biological indicators," said Priscilla. "The next step will be to involve infection prevention, to help justify the minor cost with beginning to monitor in every load."
One hospital in New Jersey switched to monitoring every load to remove questions or a stoppage in their process. If the process is standard, whether your processing a load in a steam or vaporized hydrogen peroxide (VHP) sterilizer, technicians will know they need a biological indicator.
Want to Learn More about Rapid-Read Biological Indicators?
STERIS offers fast-read BIs for both steam sterilization and VHP low temperature sterilization with a FAST 20-minute incubation time.
Celerity® 20 STEAM Process Challenge Device
Steam Sterilization Process Challenge Device (PCD) for dynamic air removal and gravity cycles with easy-to-interpret chemical indicator and fast 20-minute biological indicator results.