What is Infection Prevention?
Infection Prevention in Healthcare
Infection Prevention and Control in Healthcare
Most healthcare facilities have an infection preventionist who is an expert on preventing the spread of disease. This person, or an infection control team, works to reduce the risk of contagious diseases spreading within the hospital by reviewing policies, procedures, and safety precautions and monitoring the source and rates of healthcare-associated infections (HAIs).
What are Healthcare-Associated Infections?
HAIs are infections that patients acquire while receiving medical treatment. They pose a threat to patient safety – and according to the Centers for Disease Control (CDC) they are preventable in many instances. The Center for Disease, Dynamics, Economics & Policy reported HAIs cost the healthcare industry an estimated $9.8 billion annually, with surgical site infections (SSIs) comprising the largest percentage of that at over $3.3 billion.1
Handwashing and Infection Control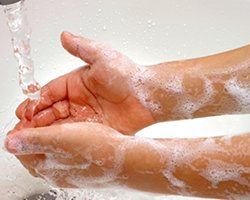 Since a substantial portion of infections are from cross-contamination or transmission by the hands of a healthcare worker, proper handwashing is mandatory – and key to infection prevention.
Performing adequate and appropriate hand hygiene is one of the most important methods of reducing the transmission of pathogenic microorganisms in healthcare settings. Taking steps to reduce the transmission of pathogens ultimately reduces the probability of healthcare-associated infections. Although the importance of handwashing is widely known, studies have shown that
adherence to recommended good hand hygiene practices remains low among healthcare workers2. Handwashing sinks, soap, running water, paper towels and alcohol-based hand sanitizers all need to be available and easily accessible.
Sterile Processing
The Sterile Processing Department (SPD), also known as CSSD or CS, is the central hub of a healthcare facility where medical equipment and instrumentation is processed through decontamination, disinfection and sterilization. SPDs provide medical devices and instruments that are safe for handling by facility staff and safe for use with the next patient. Sterile Processing Professionals follow established standards and recommendations provided by the Association for the Advancement of Medical Instrumentation (AAMI), the standards of practice for the United States. Infection prevention practices impact SPD staff in all aspects of their job.
Explore our Sterile Processing solutions
Infection Prevention and Control in Sterile Processing
The primary role of infection control in sterile processing is to establish policies, procedures and practices to reduce the risk of transmission of microbial pathogens causing diseases – with the goal of protecting patients and staff members. Adherence to best practices and procedures is dependent upon the people and their training for successful outcomes. The hospital facility and SPD/Staff Members need to ensure the following3 :
Implementation of thorough/effective hand hygiene measures
Availability of personal protective equipment (PPE), e.g. gloves, protective impervious barriers, face mask and eye protection for use in cleaning, disinfecting and sterilization of medical devices when required
Appropriate types of cleaning chemistries are available based upon water quality for manual and automated cleaning.
Equipment is available and functioning according to manufacturers' specifications, e.g. automated washers (ultrasonic cleaners, washer-disinfectors, cart washers), sterilizers (high temperature and/or low temperature).
Ensure policies and procedures are followed, and updated based on clinical practice guidelines per regulatory accreditation bodies
Infection Prevention & Control
Isolation Precautions
Precautions should be taken in a healthcare facility to protect both patients and the facility staff from spreading infections. Isolation precautions can help protect patients, staff and visitors from the spread of germs. Examples of isolation precautions include contact isolation precautions, droplet isolation precautions, and airborne isolation precautions. Typically, a sign is placed at the door of a patient's hospital room notifying staff and visitors which isolation precautions are required.4
Healthcare Personnel
Based on standards and recommended practices from governing bodies like Association for the Advancement of Medical Instrumentation (AAMI), healthcare personnel are required to take certain precautions to help prevent the spread of infection in hospitals and other healthcare facilities. Infection prevention measures practiced in healthcare facilities may include the use of Personal Protective Equipment (PPE), hand hygiene, and safe handling of potentially contaminated equipment or surfaces in the patient environment.4
STERILITY ASSURANCE
Sterility assurance monitoring helps the Sterile Processing Technician confirm that an instrument has received the intended sterilization parameters and is safe to use.
Device Processing and Infection Prevention
Cleaning & Disinfection to Prevent Infection
Approximately 46.5 million surgical procedures are performed every year in the United States, according to the CDC1. Each surgical procedure involves a medical device or surgical instruments and it is imperative that these are cleaned, disinfected and/or sterilized in accordance to the manufacturer's written instructions and recommended standards to help prevent surgical site infection.
During the reprocessing/decontamination sequence, reusable medical devices are cleaned by removing visual soil from an instrument before further processing. Medical devices are sorted, disassembled, pre-treated with chemistries at the point of use keeping instruments moist while in transport to the SPD in a leak-proof, puncture resistant container that is clearly labeled as being biohazardous.
Instruments that cannot be cleaned immediately should be treated with an instrument cleaner according to the device and the instrument cleaner manufacturer's written instructions for use (IFU) per 2018 AORN Guidelines for Perioperative Practice, and ANSI/AAMI ST79.
Manual cleaning of reusable medical devices involves a three-sink process with cleaning chemistries including an enzymatic, neutral and alkaline detergent followed by a treated water rinse. Automated cleaning is the next step in the process for most surgical instrumentation, and may be performed in an ultrasonic cleaner, or washer disinfector depending on the device IFUs and hospital policies and procedures. Once cleaning is complete, it is important to verify and monitor its success through visual inspection as well as cleaning verification testing. Protein testing, for example, detects a broad spectrum of proteinaceous residues to verify that effective cleaning has taken place.
The goal of processing medical devices is to effectively and thoroughly clean and disinfect the devices for patient use. However, it is important to note devices must be safe to handle for employees who prepare devices for the next step in processing. Disinfection is the reduction of microorganisms on a surface to a level safe for handling or patient use and is a critical step in the prevention of infections. Because of this, thermal and/or chemical disinfection typically is achieved prior to terminal sterilization.
High Level Disinfection (HLD)
High level disinfectants are chemistries proven to be effective at their recommended use conditions against a range of microorganisms including mycobacteria. Typically, these products are used in automated endoscope reprocessing systems after manual device cleaning. Examples of high level disinfectants are formulations that rely on peracetic acid or glutaraldehyde as the active.
Explore our High Level Disinfection solutions
Liquid Chemical Sterilization (LCS)
Liquid chemical sterilization is a low temperature processing option suitable for immersible, reusable heat-sensitive critical and semi-critical medical devices. Liquid chemical sterilization is validated to kill all microbial life including bacterial endospores, thus providing a higher level of reprocessing assurance for complex flexible endoscopes when compared to HLD.
Terminal Sterilization
Sterilization is a process that renders a surface or product free from viable organisms, including bacterial spores. After medical devices have been cleaned/disinfected, they are transferred to the Clean Area (Assembly & Packaging) for further inspection prior to packaging for sterilization. If any bioburden is found on the instruments or devices, they are returned to the decontamination area for recleaning. Proper cleaning helps prevent infection and spread of disease, because if a device is not clean it cannot be sterilized.
The most common sterilization methods are steam sterilization in an autoclave, or low temperature sterilization for heat sensitive devices with gaseous hydrogen peroxide. To ensure items are sterilized properly, the SPD Professional operating the equipment must be educated, trained and able to demonstrate competency to operate any equipment prior to usage.
Infection Prevention & Control Guidelines
The Association for Professionals in Infection Control and Epidemiology (APIC) is the leading professional organization for infection prevention professionals. APIC does not provide official standards but does provide guidance and shares best practices with healthcare professionals regarding infection prevention.
Since sterile processing departments play a major role in infection prevention, all tasks performed by SPD professionals should follow established standards and recommended practices provided by the Association for the Advancement of Medical Instrumentation (AAMI). Its published standards are respected around the world and are used as models and references nationally and internationally. They are the standards of practice for the United States for decontamination, sterilization and related topics and are referred to by healthcare organizations, state and local departments of health and CMS (The Centers for Medicare & Medicaid Services).
REFERENCES:
1: Zimlichman E, Henderson D, Tamir O, et al. Health Care-Associated Infections A Meta-analysis of Costs and Financial Impact on the US Health Care System. JAMA Intern Med. 2013;173(22):2039-2046.
2: https://www.cdc.gov/handhygiene/science/index.html
3: International Association of Healthcare Central Service Materiel Management Central Services Technical Manual (8th ed.)
ADDITIONAL RESOURCES TO DEVELOP THIS ARTICLE:
ANSI/AAMI ST79:2017, Comprehensive guide to steam sterilization and sterility assurance in health care facilities.