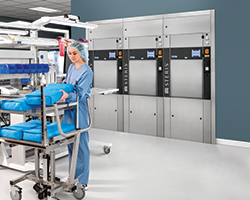 New Technologies in Steam Sterilization
Modern Needs Require Modern Equipment
It is no secret that steam sterilizers are the reliable work horse of the sterile processing department (SPD). With growing caseload volumes facing many facilities it is important to consider the advantages modern steam sterilizers provide your department to help it run at peak efficiency.
What are the Benefits of Upgrading to a Modern Sterilizer?
Increased Throughput in a Smaller Footprint
Compliance with recent ANSI/AAMI Standards
Clean Steam Capabilities
Environmentally Sustainable Operation
Improved Efficiency, Electronic Documentation, and Connectivity
Throughput & Space Savings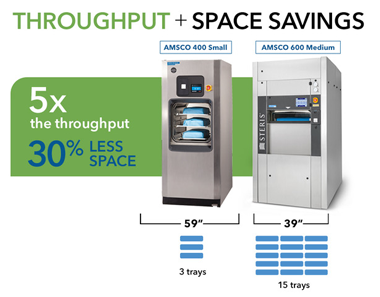 It is important to reflect and evaluate if your current steam sterilizers are providing the throughput to support procedure growth for Operating Rooms. Let us look at the productivity and space savings between older and newer sterilizers.
Modern sterilizers, like the AMSCO™ 600 Medium Steam Sterilizer, take up to 30% less space than one small sterilizer*. This means you are maximizing space in your SPD or Ambulatory Surgery Center and increasing productivity by gaining up to 5x the throughput in the same space.
Space permitting, consider double-door sterilizers for pass-through workflow. This best practice helps prevent cross-contamination and improve department efficiency.
*When compared to AMSCO® 400 Small Steam Sterilizer
Compliance to Current Standards
Do the sterilizers in your department conform with today's standards?
Today's sterilizers are engineered to ensure far less temperature variation - supporting consistent cycle outcomes
New sterilizers follow modern AAMI Standards for manufacturers, which require stricter process controls than in the past
In 2008, ANSI/AMMI updated the ST8 standard regarding tray weight from 17lb trays to 25lb trays allowing larger loads
If an SPD is processing overweight trays to accommodate the demands of the surgical schedule, sterility could be compromised and the facility may be cited during an inspection for exceeding the recommended tray weight stated in the sterilizer instructions for use (IFUs).
Clean Steam Ready
Poor water quality affects steam generation and equipment performance and could impact devices. Clean and controlled steam helps ensure accuracy and consistency during the sterilization process. Modern sterilizers may be equipped with stainless steel generators and piping to enable clean steam operation.
Benefits of Clean Steam:
Fewer deposits on instruments and chamber surfaces
Dedicated steam source for better quality control
Redundancy, able to switch between the facility and electric steam
Requires a quality RO/DI source
Sustainable Operation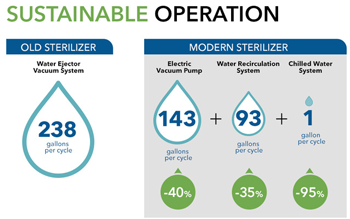 Utility use and environmental sustainability continue to be increasingly important to healthcare facilities. With a washer/disinfector, you can see the water being used, but you might not realize the utility consumption for steam because it is all inside facility piping.
For example, an older 60" sterilizer with a water ejector vacuum system can use up to 238 gallons of water per cycle. With the advent of electric vacuum pumps used in modern sterilizers, water usage has been reduced by 40% or more.
The addition of a water recirculation system reduces sterilizer water usage by another 35%. If a chilled water system is added instead, water usage can be reduced to one gallon per cycle or less! This makes modern steam sterilizers both sustainable and a more economical choice.
Improved Efficiency, Electronic Documentation, and Connectivity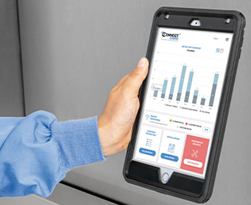 Most modern steam sterilizers are built for seamless connectivity with sterilization and quality control records stored in one place with electronic record keeping. Critical information is available at your fingertips, potentially eliminating the need for hard copy storage.
Connectivity to your facility's tracking system can also provide prompt reporting and equipment monitoring and help ensure conformance to hospital policies and procedures.
STERIS offers remote equipment monitoring without connecting to a hospital network system providing the most efficient response time when your equipment needs a technician. As caseloads grow, uninterrupted operation of steam sterilization equipment is critical. Upgrading the SPDs steam sterilizers can help to keep up with demand.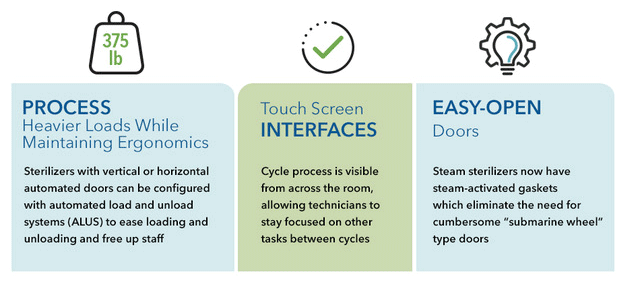 Is it Time to Upgrade?
With steam being the gold standard for sterilization, it may be time to consider upgrading your sterilizer to fit the demands of your current SPD while also addressing the likely inevitable increased caseload in your facility's future. Your older sterilizers are likely not as productive as modern sterilizers, and you are not getting the connectivity that provides you the assurance and tracking you need.
Improve the efficiency of your facility and stay compliant with current standards with the STERIS AMSCO™ 600 Medium Steam Sterilizer.