Your Guide to VHP Low Temp Sterilization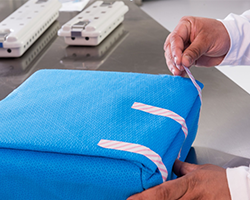 Tasks performed prior to sterilization influence the success of any sterilization process. Key steps taken during decontamination, preparation and packaging of materials for vaporized hydrogen peroxide (VHP) low temp sterilization must be followed. It's important to understand how these steps impact successful sterilization of medical devices.
Key steps include:
Properly cleaning medical devices
Ensuring devices are dry
Preparing devices in validated packaging at a prep and pack workstation
Ensuring devices are not too cold for processing
Following best practices for load configuration
In this three-part series, we're going to break down the importance of these steps, while providing tips & best practices to aid in successful sterilization of medical devices.