The AMSCO Mid-Size Warming Cabinet is the right option when space continues to be limited and patient needs grow. With its 7.2 cu. ft. chamber, this model provides high-volume storage capacity with versatility to accommodate convenient placement. Designed to be more than a blanket warmer, the Mid-Size Warming Cabinet can store and warm sterile intravenous fluids (IV fluids), surgical irrigation fluids and linen, meeting AORN adopted Joint Commission guidelines.
The AMSCO Mid-Size Warming Cabinet by STERIS features:
LED readout for instant temperature confirmation
Superior durable materials to withstand years of use
Flexible organization and storage with shelf or wire baskets option
Reliable heating with uniform and efficient heat transfer
Visual access to inventory with dual-pane tempered glass door
A design to meet AORN Recommended Practices for a Safe Environment of Care, including technology to warm IV fluids (RP VIII.b.3)
24" (610mm) depth
Electronic keyless and mechanical key door locks for security
Temperature lock-out for consistency and control
Celsius and Fahrenheit selection for convenience and accuracy
Digital data recording with USB connection for electronic record keeping
AMSCO Mid-Size Warming Cabinets can be customized with:
Free-standing or recessed installation
Optional mobile base
Door Option: Dual-pane tempered glass front
Compartments: 1
Total Capacity: 7.2 cu. ft.
Depth: 24"
Installation: Freestanding or recessed
Outside Dimensions (H x W x D): 36 3/8 x 30 x 27 1/8" (924 x 762 x 689mm)
Inside Dimensions (H x W X D): 22 3/4 x 24 x 22 7/8" (578 x 610 x 581 mm)
Temperature Range: 90°F (32°C) to 160°F (71°C)
Electronic Door Locks: Included
Electronic Data Recording: Included (via USB Port)
Mobile Base: Optional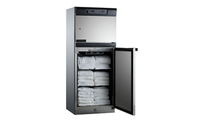 VIEW SERVICE PARTS
By choosing genuine STERIS OEM replacement parts, you can be assured that each and every part is chosen based on the highest quality standards to ensure your equipment functions at its best. STERIS's OEM replacement parts promote compliance with regulatory requirements and organizational standards on equipment maintenance and repair.
BROCHURE

Document #
Document Title

M3387EN

WARMING CABINETS BROCHURE

M3387FR

CLEAN EFFICIENT ORGANIZED CASE GOODS SOLUTIONS FOR STERIS

M3658EN

CAPITAL EQUIPMENT SOLUTIONS FOR ASC AND SMALL FACILITIES

M3848EN

TOTAL SOLUTION STANDARD OR BROCHURE

M4048EN

AMBULATORY SURGERY CENTER SOLUTIONS BROCHURE
TECH DATA SHEET

Document #
Document Title

SD935

AMSCO WARMING CABINET MID-SIZE SINGLE COMPARTMENT