With the highest patient weight capacity and lowest table height that STERIS offers, the STERIS 5095 General Surgical Table is a premium performance surgical table that sets the new benchmark in surgical versatility.

By delivering advancements in ease of use and control, anesthesia delivery, infection prevention and surgical staff ergonomics, the 5095 Surgical Table easily adapts to virtually every surgical specialty such as endoscopy, urology, orthopedic, and bariatric procedures with the addition of STERIS surgical table accessories.
How the STERIS 5095 General Surgical Table Works
With a low height of 22.8", the 5095 Surgical Table can achieve proper patient positioning in bariatric procedures and minimally invasive surgeries (MIS), while the 18" slide on this C-arm compatible operating table creates excellent imaging access crucial for cardiothoracic and neurosurgical procedures. The 5095 surgical Surgical Table accommodates virtually all patients with a generous weight capacity of 1,200 lbs., and the optional Featherweight Leg Section complies with AORN Safe Handling principles, weighing just 14 lbs.
Why the STERIS 5095 General Surgical Table?
The 5095 Surgical Table's flexible design gives OR staff the versatility they need to perform a wide range of surgeries using a variety of patient positions such as supine, prone, lateral, Lithotomy, Fowler's position, and Trendelenburg position, all while providing the lowest height and highest weight capacity that STERIS offers.
Strong, yet flexible – Accommodates virtually all patients with generous weight (1,200 lbs.) and height ranges. The 5095 Surgical Table provides an exceptionally low height for MIS, robotic and bariatric techniques without sacrificing the height needed for orthopedic and cardiac procedures.
Infection prevention – Promotes infection prevention in the OR with a table pad attachment alternative to hook and loop fasteners, and flush side rails absent of exposed screws for easier cleaning.
Improving anesthesia care - Integrated in the optional table pads of the 5095 Surgical Table, the STERIS Patient Warming System provides additional valuable conductive warming at times before, during or after procedures in the operating room. The STERIS Patient Warming System provides patients with warmth during times along their surgical journey where patient core temperatures typically drop, such as during induction, prep and draping, and after the surgical case closes.
Large imaging area – Provides superior C-arm access to the surgical team, crucial for MIS, cardiothoracic, orthopedic, and neurosurgical procedures. The STERIS 5095 General Surgical Table's narrow column, radiolucent tabletop and superb slide provide one of the largest imaging windows on the market today.
Quick, safe patient positioning – Contours to virtually all patient positions such as Fowler's, High Fowler's, Supine, Jackknife/Kraske, Prone, Lithotomy, Sims, and Lateral.
The 5095 Surgical Table's features and accessories provide ease-of-use and improved patient positioning capacity for the OR team:
Universal Hand Control – An intuitive hand control puts patient posturing at your fingertips. With an ergonomic design and easy-to-read LCD display, it communicates instantaneous table positioning data without lifting the sterile drape. Auto-collision safeguards are also in place to protect the table.
Dual-Articulating Headrest – The Dual-Articulating Headrest enables more versatile positioning for anesthesia providers. Tilt and height capability of the headrest facilitates improved patent airway management and simplifies lateral patient positioning.
The STERIS 5095 General Surgical Table can be used to support the OR team in proper patient positioning for virtually all surgical specialties.

Supine Position for Femoro-Popliteal Procedures

Supine Position for Cardiovascular Procedures

Lithotomy Position for Cystoscopy / Urology / GYN Procedures

Fowler's Position for Sitting Neurosurgery Procedures

Supine Position for Ophthalmic/ENT Procedures

Reverse Trendelenburg for Bariatric/Split Leg Procedures

Lateral Position with Kidney Elevation for Kidney & Thoracic Procedures

Supine Position for Orthopedic Procedures

Fowler's Position for Shoulder Chair Procedures
Other Positions
Total Hip
Prone Neurosurgery
Spinal Neurosurgery
Lateral Neurosurgery
Kneeling Neurosurgery
Nisson Fundoplication
Lithotomy
Gallbladder & Thoracic
Endovascular
FEATURE
DESCRIPTION

Table Length

81" (2057 mm)

Table Width

20" (508 mm) (28" with extenders)

Table Height Range

22.8" to 42.5" (581 mm - 1080 mm)

Table Slide Range

9" (227 mm) to head, 9" to foot (18" total)

Patient Weight Capacity*

1,200 lb. (544 kg) patient support, including raise/lower (centered on the column)

900 lb (409 kg) full table articulation (centered on the column)

600 lbs (272 kg) full table articulation, including slide

Table Shipping Weight

820 lbs. (372 kg)

Trendelenburg / Reverse

30° / 30°

Lateral Tilt (left/right)

20° / 20°

Head Section

+90° / -90°

Back Section

+80° / -40°

Leg Section

0° / -105° (removable)

Flex/Reflex

140° / 100°

Manual Override

Yes

Perneal Cut-out

Yes

Kidney Elevator

4" (110 mm) powered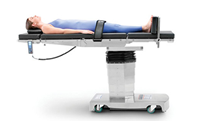 By choosing genuine STERIS OEM replacement parts, you can be assured that each and every part is chosen based on the highest quality standards to ensure your equipment functions at its best. STERIS's OEM replacement parts promote compliance with regulatory requirements and organizational standards on equipment maintenance and repair.
surgical table accessories
OPERATORS MANUAL

Document #
Document Title

056404485

STERIS 5095 GENERAL SURGICAL TABLE

056404486

STERIS 5095 GENERAL SURGICAL TABLE (FRENCH)

056404487

STERIS 5095 GENERAL SURGICAL TABLE (SPANISH)

056404490

STERIS 5095 GENERAL SURGICAL TABLE (PORTUGUESE)
TECH DATA SHEET

Document #
Document Title

056404492

STERIS 5095 GENERAL SURGICAL TABLE (ENGLISH)
SELL SHEET

Document #
Document Title

M10380EN

SURGICAL TABLE PAD TIPS AND TRICKS SELL SHEET

M10563EN

STERIS PATIENT WARMING SYSTEM SELL SHEET
BROCHURE

Document #
Document Title

M10669EN

STERIS 5095 GENERAL SURGICAL TABLE BROCHURE

M10943EN

SURGICAL PATIENT SURFACES CATALOG

M11339EN

SURGICAL TABLE ACCESSORIES CATALOG

M11339EN

SURGICAL TABLE ACCESSORIES CATALOG