Outstanding versatility and value
The STERIS 4085 General Surgical Table's design gives a surgical team the flexibility, control and convenience they need for today's patients and procedures.
Features for a wide array of procedures:
Accommodates virtually all patients with generous weight and height ranges
Provides outstanding access for C-arm, permitting high quality images crucial to cardiothoracic, orthopedic and neurosurgical procedures
Contours to virtually all patient postures with four section tabletop
Compensates for uneven OR floors with self-leveling floor locks
Radiolucent 18" sliding top for total body imaging (43" upper and 43" lower body C-arm access)
Provides unrestricted perineal access with removable leg section
Optional Featherweight Leg Section complies with AORN Safe Handling Principles
Enhances lateral procedures with a powered, radiolucent kidney elevator
Easy to use, easy to read hand control with digital data window
Prevents sectional and table base collisions with the Auto Limit Sensor™
Compatible with a wide array of previously purchased accessories
Customer Testimonial

Femoro-Popliteal

Cardiovascular

Cystoscopy / Urology / GYN

Endourology
Ophthalmic/ENT

Bariatric/Split Leg

Kidney & Thoracic
Orthopedic

Shoulder Chair

Total Hip

Prone Neurosurgery

Spinal Neurosurgery

Lateral Neurosurgery

Kneeling Neurosurgery

Nisson Fundoplication
Gall Bladder and Thoracic

Endovascular

Gynecology
SPECIFICATION

DESCRIPTION

Table Length

81" (2057 mm)

Table Width

20" (508 mm) (28° with extenders)

Table Height Range

26" to 45" (660 to 1143 mm)

Table Slide Range

9" (227 mm) to head, 9" to foot (18" total)

Patient Weight Capacity

1,100 lbs. (500 kg) patient support, including raise/lower (centered on the column)
1,000 lbs (454 kg) full table articulation (centered on the column)
600 lbs (272 kg) full table articulation, including slide

Table Shipping Weight

560 lbs. (254 kg)

Trendelenburg / Reverse

30° / 30°

Lateral Tilt (left/right)

20° / 20°

Head Section

+90° to -90°

Back Section

+80° to -40°

Leg Section

0° to -105° (removable)

Flex/Reflex

140° / 100°

Manual Override

Yes

Perneal Cut-out

Yes

Kidney Elevator

4" powered radiolucent
Service Manual
Customer Testimonial
In-Service Video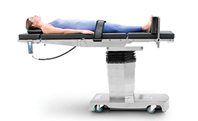 VIEW SERVICE PARTS
By choosing genuine STERIS OEM replacement parts, you can be assured that each and every part is chosen based on the highest quality standards to ensure your equipment functions at its best. STERIS's OEM replacement parts promote compliance with regulatory requirements and organizational standards on equipment maintenance and repair.
BROCHURE

Document #
Document Title

M10824EN

SURGICAL SOLUTIONS CAPABILITIES BROCHURE

M2699EN

POWER-LIFT AND BARIATRIC POWER-LIFT STIRRUPS. INFINITE LEG POSITIONING. PRECISELY.

M3309EN

STERIS 4085 SURGICAL TABLE: A SMART INVESTMENT IN SURGICAL VERSATILITY

M3483EN

ADDRESSING A PRESSING NEED. STERIS HLT SURGICAL TABLE PAD

M4038EN

SECURECARE TABLE REVIVE BROCHURE

M4038FC

SECURECARE TABLE REVIVE BROCHURE-FRENCH CANADIAN VERSION

M4099EN

SECURECARE TABLE CARE PACKAGE SELL SHEET
SELL SHEET

Document #
Document Title

M4034EN

NEW SURGICAL TABLE ACCESSORIES

M4060EN

SURE LOC XPS SELL SHEET

M4061EN

E-Z LIFT BEACH CHAIR SELL SHEET

M4099FC

SECURECARE TABLE CARE PACKAGE SELL SHEET

M9750EN

SHORT FEATHERWEIGHT LEG SECTION SELL SHEET
TECH DATA SHEET

Document #
Document Title

SD909

STERIS 4085 SURGICAL TABLE