The PowerLift Plus Adult (BF856) and Bariatric (BF857) Stirrups take lithotomy positioning to the next-level. The integrated power-assist mechanism, as found in our traditional PowerLift Stirrups, allows for ease in managing the patient's anatomical weight in lithotomy. The unique, grip-and-twist control handles allow staff to adjust the angle of lithotomy and degree of AB/ADduction during setup without lifting the sterile drape.
What sets these stirrups apart from others:
The lateral fin protects the patient's peroneal nerve during surgery which is one of the biggest safety concerns in lithotomy positioning.
It is very common for blood, fluid and other microorganisms to build up within the hook-and-loop surface of traditional Velcro® straps. Transitioning to a Velcro®-less strap, made of a medical-grade, silicone, will maximize infection prevention and cleanability.
The shape of the rod has also been re-designed to improve the degree of low lithotomy by an additional 22 degrees.
The STERIS PowerLift Stirrup Smart Cart (BF860) has improved stability and a more effective storage design to better secure the stirrups.
The Secure-Release Clamp (BF861) can be mounted anywhere along the siderail and incorporates a button to prevent false rail engagement.
STERIS PowerLiftPlus Stirrups
Product Dimensions:
40"(L) x 11"(W) x 16"(H) (101.6 cm x 28 cm x 40.6 cm)
Product Weight:
14.6 lbs. (6.6 kg) (each)
Not manufactured with natural rubber latex
STERIS Stirrups
Stirrup Model
PowerLift Freedom
PowerLift Plus
PowerLift
Lateral Fin
Yes
Yes
No
Straps
Velcro®-Less
Velcro®-Less
Velcro®
Range of Motion
+85°, -55°
+85°, -55°
+84°, -33°
Boot Pad Attachment
Velcro®-Less
Velcro®
Velcro®
Lift Feature
Gas Spring
Powered
Gas Spring
Powered
Gas Spring
Powered
AB/Adduction
+25°, -9°
+25°, -9°
+25°, -9°
Patient Weight Capacity
500 lbs
500 lbs, 800 lbs
720 lbs, 500 lbs
250 lbs, 160 lbs
The PowerLift Plus Stirrups can be used to support the OR team in proper patient positioning for lithotomy in a number of ways. These stirrups are versatile and are capable of achieving appropriate positioning for a Urology, Gynecology, Bariatric or even a Robotics case.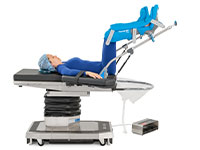 Standard Lithotomy Position for Gynecology / Urology Procedures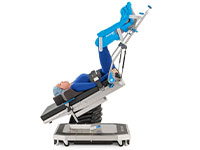 Standard Lithotomy in Trendelenburg Position for a Rectal / Colo-rectal Procedure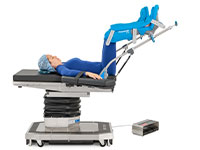 Standard Lithotomy Position for a Cystoscopy Procedure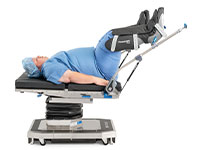 Lithotomy Position with Bariatric Stirrups for Urology / Gynecology Procedures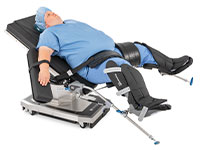 Reverse Trendelenburg Position for a Nissen Fundoplication Procedure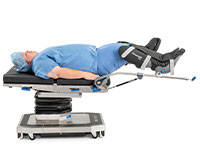 Low Lithotomy Position with Bariatric Stirrups for Urology / Gynecology Procedures
Included:
Secure-Release™ Clamp US (pair) - BF861
Note: Clamps can be ordered separately (each)
Optional Accessories:
STERIS PowerLift Stirrup Smart Cart - BF860
Replacement Pads:
PowerLift Plus Adult 500 – BF868
PowerLift Plus Bariatric 800 – BF869
| Product Number | Description | |
| --- | --- | --- |
| BF856 | STERIS PowerLift Plus Adult | |
| BF857 | STERIS PowerLift Plus Bariatric | |
| BF861 | Secure-Release™ Clamp US | |
| BF860 | STERIS PowerLift Smart Cart | |
BROCHURE

Document #
Document Title

M11339EN

SURGICAL TABLE ACCESSORIES CATALOG

M12180EN

STERIS POWERLIFT STIRRUPS BROCHURE

P150832738

5085/4085 PATIENT POSITIONING INSTRUCTIONS QUICK REFERENCE GUIDE