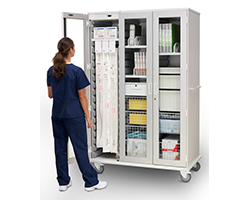 What are Operating Room Cabinets?
Uses of operating room storage cabinets
Operating room storage cabinets are used in operating rooms, catheterization (cath) labs, radiology and endoscopy departments, Sterile Processing Departments (SPD), and other departments for storage of surgical supplies, instruments and devices. Operating room cabinets may be constructed from stainless steel, laminate or other durable materials. Operating room cabinets often come in a variety of standard and customizable designs depending on the need of the facility and the room in which they are placed. For example, operating room storage cabinets are an ideal way to safely store materials like linens and other medical supplies where they can be easily accessed by hospital staff.
Types of operating room cabinets
Operating room cabinets come in a wide variety of configurations and types. Operating room cabinets are often customized to fit the needs of the OR and the OR staff. Choosing the right type of storage cabinet – stationary or mobile – for a facility or department depends on the needs of the staff and the type of setting in which they will be used.
Stationary storage cabinets are often large, easily reconfigured, and are designed to stay in place in the operating room long-term. While standard offerings are available for fixed cabinetry, hospitals often choose custom solutions to ensure they have the correct kind of storage that maximizes the available space in the operating room.
Mobile storage cabinets, or mobile storage carts as they are sometimes called, are smaller than stationary cabinets and are designed with the flexibility to be easily moved room to room. A mobile storage cart is typically a stainless steel cabinet or laminate cabinet on wheels with shelving equipped for supply storage, and doors. Mobile storage cabinets are ideal for facilities that perform multiple procedures and require a storage solution that can adapt to various room set-ups.
Explore our Operating Room Storage Cabinets
Operating room cabinet features
Configurable Shelving – As quickly as healthcare practices and requirements can change, so can the need for different equipment to be stored in an operating room. It is important that any shelving choices also allow for a high level of customization with regards to shelving options and the ability to rearrange shelving in the future to accommodate new needs.
Slope tops – Slope top shelving offers a slanted piece of material (often stainless steel) on top of the shelving unit. The main advantage to this addition is its ability to slope any airborne particles off of the unit in order to prevent the build-up of dust and dirt on top of the shelves. In addition, having a slopped top promotes good storage practices as excess materials and equipment cannot be placed on top of the cabinets.
Nurse Documentation Centers – Many shelving and storage options also allow for a nurse documentation center to be built into the unit. These documentation centers allow for the placement and utilization of charting materials, allowing for a dedicated space for charting to occur. These are often beneficial in smaller operating rooms, which may not have the space to dedicate to a free-standing documentation center.
Operating room cabinet specifications
Operating room cabinets specifications can vary from hospital to hospital, or even from OR to OR. A typical cabinet is either 18.75" or 24.75" deep and the width can vary depending on the intended use of the cabinet. Cabinets can be designed to be modular and utilized for supply storage, linen storage, or even catheter storage.
Where to buy operating room cabinets
Purchasing the right type of operating room cabinets is important to keeping a busy healthcare facility up and running. Operating room storage provides a secure, safe environment to store supplies, instruments, medical devices and other miscellaneous items used in the OR. Healthcare staff in charge of purchasing medical equipment at their facility often consider brand, service, Customer support, long-term and short-term cost and environmental footprint when choosing which medical storage cabinets to buy. Usually, a sales representative or distributor assists with the purchasing decision for operating room cabinets.