Ambulatory Surgery Centers: How to Adapt as your Caseloads Increase
Change is Coming – Here's How Automated Container Processing Can Help you Keep Pace
Ambulatory surgery center (ASC) caseloads are growing 6% to 7% each year1 with orthopedic, cardio, and spine procedures growing the fastest. Combine that with ASC procedure costs that are 35% to 50% lower than at a hospital2, the future becomes clear: these outpatient facilities will become a more popular choice for many complex ortho, cardio and spine procedures. With these procedures come more complex instruments, which often use containers for processing and storage3.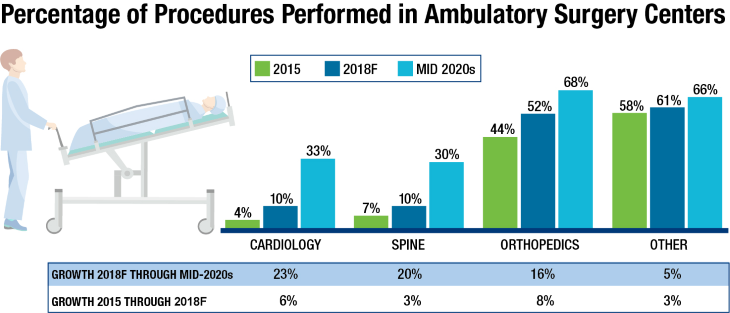 Most ASCs, also known as outpatient facilities, are modern healthcare facilities focused on providing same-day surgical care, including diagnostic and preventive procedures.5 These facilities don't use case carts, so you might not think they need a "cart washer", but likely have containers and a growing need to process them quickly. Orthopedic procedures use around 10 trays per procedure, and 6 of those are typically containers. If your facility does a few each day, plus any additional procedures, containers can start creating a backlog in your decontamination area.
Although washing instrument containers at the sink or wiping them down works today, as the number of containers grows it can soon become hard to keep up.

Automated Washing vs. Manual Processing
For the ASCs in 2018, processing containers at the sink was commonplace. Fewer procedures, a manageable number of containers, and Instructions for Use (IFUs) outlined basic sink washing.
Fast forward to 2021 and beyond. With the increase in case volumes, washing more than a few containers at the sink or wiping is no longer practical from a workflow standpoint. More importantly, it's not nearly effective enough.
Besides the time it takes to process the volume of containers, automated washing follows IFUs and properly cleans containers. Today, some containers call for a pure water rinse4, which can be difficult to accomplish at the sink.
One choice is to use a single-chamber washer/disinfector to process containers. Unfortunately, those washers only accommodate 3 to 4 containers per cycle and take up valuable time that could be used to wash surgical instruments.
How a Hospital Cart Washer can Automate your Container Processing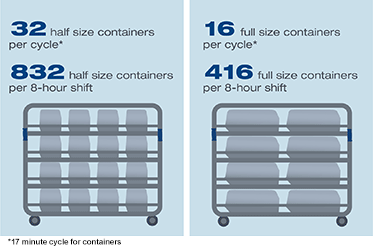 Using a Cart and Utensil Washer/Disinfector, ASCs can achieve the efficiency and throughput needed to keep up with growing caseloads. Cart washers can effectively wash containers and ensure you are following today's industry guidelines and IFUs.
For example, the AMSCO 1215 Cart & Utensil Washer/Disinfector can process 16 full-size or 32 half-size containers in just 17 minutes. During this time, technicians can focus on processing the complex surgical instruments that accompany these procedures. Considering this capacity over an 8-hour shift makes it easy to see how efficiency is improved and better use of sterile processing technicians' time.
Go Beyond Just Processing Containers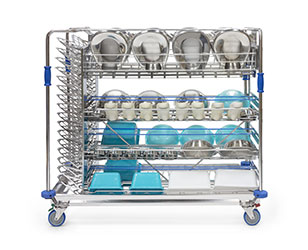 Cart and utensil washers are versatile too. With 8 shelves per rack, each shelf holds:
9 bowls
4 basins
4 adult size bedpans
4 pairs of shoes
2 plastic crates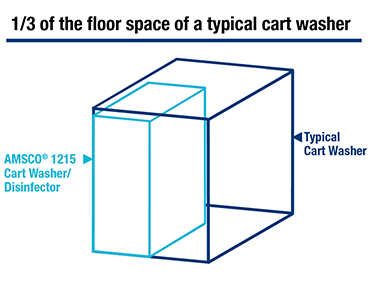 As ASCs face growing caseloads with more complex surgical instruments, sink washing for containers poses a significant challenge with capacity and IFU compliance. While adding a cart washer/disinfector may not have been considered in the past, new smaller footprint solutions that require 1/3 of the floor space of a typical cart washer make automating your container process possible.
Cart washers provide efficient cleaning and disinfection of instrument case carts, containers, utensils, and other reusable items for high-capacity reprocessing departments. Never sacrifice productivity based on space again!
Explore the AMSCO 1215 Cart Washer/Disinfector
Related Resources:
Article References
1, 2, 3Ambulatory Surgery Center Growth Accelerates: Is Medtech Ready? Tim van Biesen and Todd Johnson, Bain & Company 2019
4Aesculap SterilContainer System Instructions for Use, June 2020
5 https://www.ascassociation.org/advancingsurgicalcare/asc/whatisanasc
Association for the Advancement of Medical Instrumentation, ANSI/AAMI ST79:2017