This product is no longer available for purchase and has been replaced with a newer model. Learn about AMSCO® 7053HP Washer Disinfector.
The AMSCO 7053L Single-Chamber Washer/Disinfector is designed for cleaning and intermediate-level disinfection of soiled reusable utensils, trays, bedpans, and urinals. It can also be used for rubber and plastic goods, simple hard-surfaced rigid surgical instruments (such as forceps and clamps) and other similar and related articles found in healthcare facilities.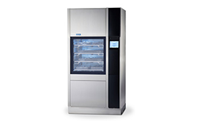 By choosing genuine STERIS OEM replacement parts, you can be assured that each and every part is chosen based on the highest quality standards to ensure your equipment functions at its best. STERIS's OEM replacement parts promote compliance with regulatory requirements and organizational standards on equipment maintenance and repair.