Designed in accordance with Underwriters Laboratories safety standards, AMSCO Flexmatic Scrub Sinks fulfill the requirements of any operating room. Available with 1, 2, or 3 stations, these sinks offer hands-free operation of both water and soap. Safety features minimize contamination risk, and design options and accessories provide convenience to your staff.

AMSCO Flexmatic Scrub Sinks feature:
Available models: 1, 2, or 3 stations
Stainless steel construction with welded compartments and coved corners for easy cleaning
Hands-free water control: knee activated panel turns water on and off
Optional hands-free soap: 2 cc. of soap are released with each push of the foot pump or knee panel operated accessory
Standard rose spray faucet: producing a showerhead type pattern without aerating the water
Optimum water temperature: the built-in thermostatically controlled mixing valve provides water temperature up to 115° F (46° C)
Chair carrier recommended to support the hanging weight of the scrub station if the wall is not properly reinforced
The AMSCO Flexmatic Scrub Stations can be customized with optional:
Laminar flow faucet: delivering a consistent stream of non-splash water
Eye-wash station: safety option is turned on by activating the knee panel and a pull of the center knob, releasing both safety caps to provide instant flushing

NOTE: faucet-mounted eye wash stations (regardless of manufacturer) require two motions to operate (turn water on, pull knob) and thus do not meet the provisions of ANSI Z358.1-2004.

Field upgradeable knee operated soap dispenser or foot pump accessory
Digital timer: ensuring adequate scrubbing time
Infrared sensor: easily turns water on and off when hands are under faucet
Divider Screen: available on 2 and 3 station units for reducing splash and aerosol contamination between adjacent stations
Shelf for AMSCO Flexmatic Scrub Sinks
Organize the critical area above your scrub sink with this durable, 18 gauge (0.050" thick) Stainless Steel utility shelf. Handily position your most needed scrub supplies directly above the sink. The attractive, bead-blasted finish matches the STERIS Flexmatic single and dual bay scrub sinks.

| | |
| --- | --- |
| PRODUCT NUMBER | SPECIFICATIONS |
| CE00000001 | 8" x 32" Shelf |
| CE00000002 | 8" x 64" Shelf |
1-STATION

2-STATION

3-STATION

Dimensions (W x D x H)

32 x 27 9/32 x 51 1/2" (813 x 692 x 1308 mm)

64 x 27 9/32 x 51 1/2" (1626 x 692 x 1308 mm)

96 x 27 9/32 x 51 1/2" (2438 x 692 x 1308 mm)

Laminar Flow Faucet Head

Optional

Optional; both would have same style head

Optional; all would have same style head

Eye Wash Station Attachment

Optional

Optional; can be attached to left or
right faucet

Optional; can be attached to any faucet

Infrared Water Control
Optional
Optional
Optional
Foot Pump Accessory
Optional
Optional; recommend
one for each station
Optional; can be
attached to any faucet

Knee-operated internal soap dispenser

Optional

Optional

Optional

Digital Timer
Optional
Optional
Optional
Divider Screen
Optional
Optional
Optional
Temperature Safety
>115°F (46°C)
>115°F (46°C)
>115°F (46°C)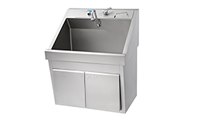 VIEW SERVICE PARTS
By choosing genuine STERIS OEM replacement parts, you can be assured that each and every part is chosen based on the highest quality standards to ensure your equipment functions at its best. STERIS's OEM replacement parts promote compliance with regulatory requirements and organizational standards on equipment maintenance and repair.