FAQs
Q: How does ORLocate help to prevent retained surgical items?
A: ORLocate helps surgical teams reduce the incidence of "missed counts" and the possibility of intraoperative X-Ray for the patient. Within seconds, ORLocate can count multiple surgical items before, during, and after the procedure. This reduces the time spent locating and tracking surgical sponges within the patient cavity or waste bins and kick buckets during manual counts, improving efficiency and accuracy.
Q: What is Radio Frequency Identification (RFID)?
A: RFID uses electromagnetic fields to identify items. Two RFID frequencies are available and should be selected based on the scanning environment and their application:
High Frequency (HF RFID) systems have multiple applications and acceptable uses. It can penetrate liquids and overcome most metal interference, making it highly-suited for OR environments. It also has a high tolerance for environmental electronic and electromagnetic interference near the RFID-tagged items.
Ultra-High Frequency (UHF RFID) systems are a lower-cost alternative and work best where fast identification is required from a distance. This type of scanning frequency is commonly used in the shipping industry. UHF can encounter sensitivity near metal objects and interference when submerged in liquids, or from other electronic devices that can interrupt scanning.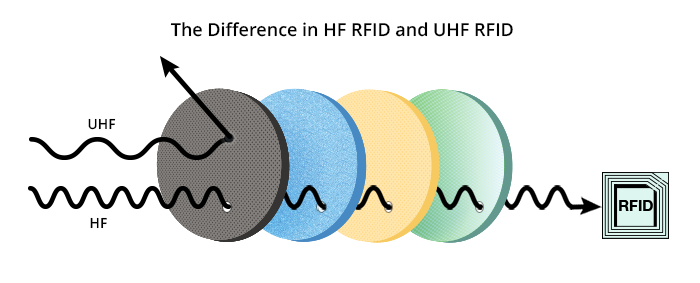 Q: What is the reading distance of the RFID tags?
A: The HoveRead tool for counting in and out surgical sponges has a read distance of six inches. The Locator wand for identifying sponges in linens, trash, or even the patient has a read distance of 19 inches.
Q: Is ORLocate designed to replace surgical sponge counting procedures?
A: No, it is meant to be used as assistive technology that is seamlessly integrated into current surgical count protocols. The tool helps improve the accuracy of counts and reduces risk of retained surgical items. AORN has updated its guideline for the prevention of retained surgical items to include a recommendation to adapt adjunct technology.
Q: How effective is ORLocate Surgical Counting and Detection System?
A: ORLocate has been used in thousands of surgical procedures with high accuracy rates. Radio frequency identification technology for the counting, locating and detecting sponges is well established, and it's accuracy has been validated through research referenced in the AORN practice guideline and recommendation.
Q: Does ORLocate have a sterile cover for the reader or locator wand?
A: Yes, there are sterile covers for both.
Q: Does ORLocate require its own tagged surgical gauze to be used?
A: Yes, and there are over 77 SKUs of sponges and towels to fit a variety of needs.