Product Overview
The Rapid AV™ catheter was designed for the delivery of spray cryotherapy treatment for Barrett's esophagus and esophageal cancer – utilizing an active venting method.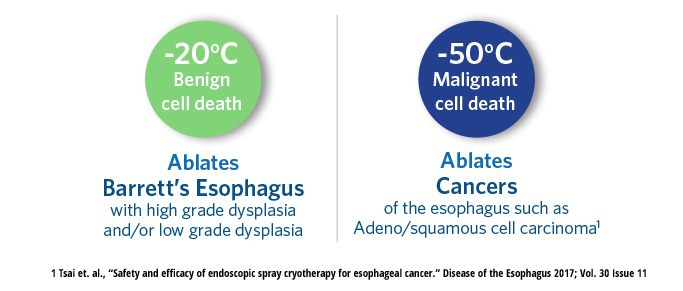 Examples of additional benign and malignant applications include:
Hemostasis
Stricture Management
Stent overgrowth/ingrowth
Radiation proctitis
Dysphagia
Gastric Antral Vascular Ectasia (GAVE)
Diseases of the high cardia
The Rapid AV™ Catheter Technology
The Rapid AV™ catheter is primarily used in gastrointestinal (GI) procedures that require active venting to ablate benign disease and malignancies such as esophageal cancer. The catheter is specially designed to deliver cold liquid nitrogen at -196oC to cause a fast freeze and allow for a slow thaw of the tissue. This fast freeze and slow thaw cycle effectively kills tissue by causing instant and delayed cell death for a more effective treatment of diseased cells of the tissue.
Benefits of the Rapid AV™ Catheter
50% reduction in overall ablation time - The Rapid AV™ catheter is designed to decrease time to frost by 50%.
Treats benign and malignant lesions - truFreeze is the only device indicated to ablate Barrett's Esophagus with high grade dysplasia and/or low grade dysplasia and malignancies.
Rejuvenative healing response - Liquid nitrogen spray cryotherapy promotes a rejuvenative healing response due to low scarring compared to traditional heat-based ablation therapies.