The Roth Net Retriever – Mini offers a smaller catheter (1.8mm) and fits through smaller scope channels. This mini foreign body retriever offers precision when retrieving small foreign bodies along with more room in the channel for suction or irrigation.
How the Roth Net Retriever – Mini Works
The Roth Net Retriever – Mini is intended to be used to retrieve excised polyps, tissue samples, foreign bodies and calculi during flexible and rigid endoscopy procedures.
Why the Roth Net Retriever – Mini?
This Roth Net foreign body mini retriever is:
Ideal for use in pediatric gastroscopes or other smaller scopes with a channel size of 2.0mm or larger
Effective for removing coins, watch batteries and a variety of other foreign bodies that are commonly swallowed by mistake
Needed during precise retrievals in smaller anatomy or tight areas (i.e. Narrow Esophagus)
Use this chart to identify which Roth Net retriever is the best fit for your procedure. To request this chart for your facility, contact your local Sales Representative.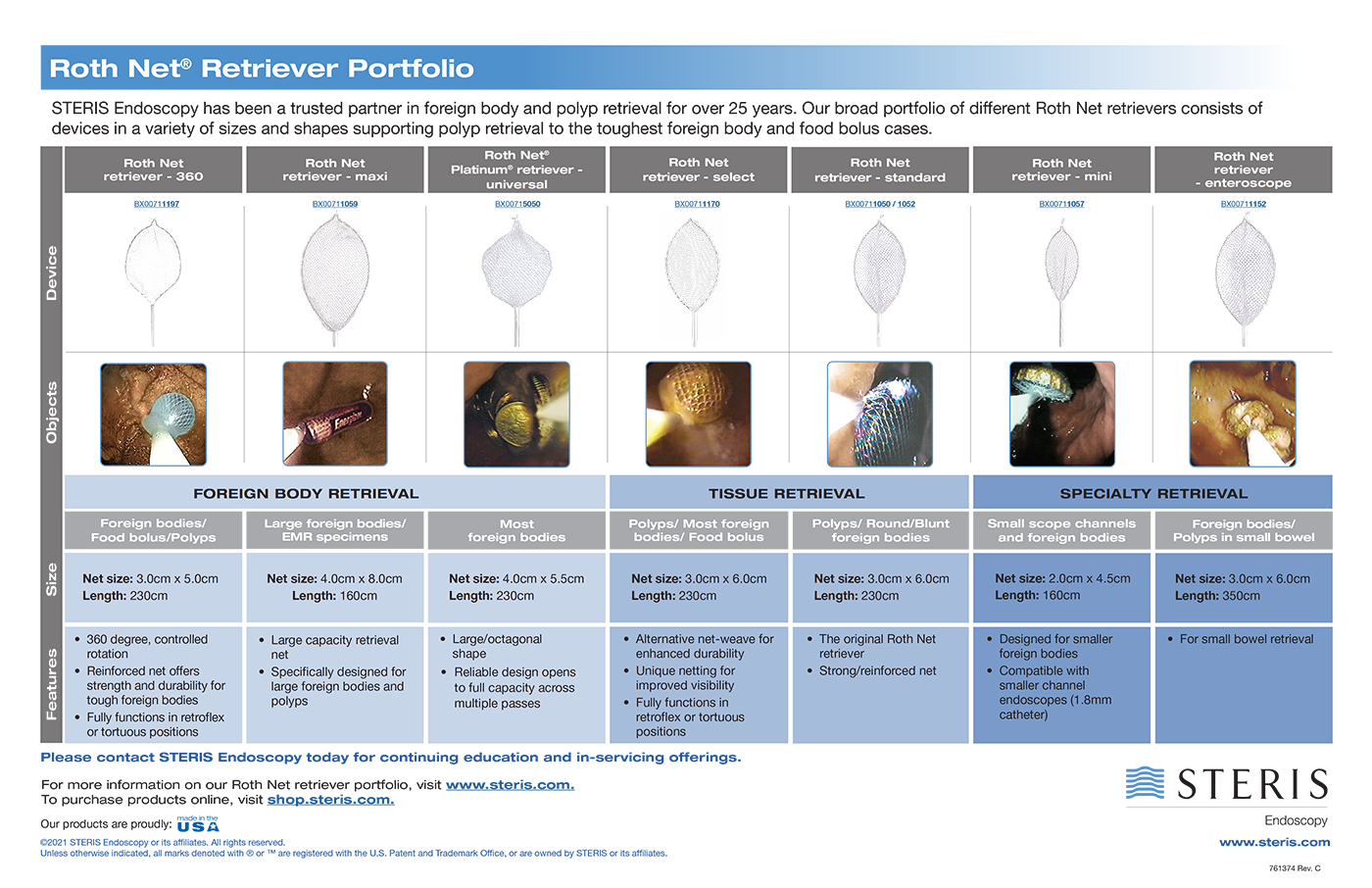 Browse a complete Item Number list and easily reorder Roth Net® Retriever – Mini products on Shop STERIS.
Product Number
Sterile
Sheath Diameter
Length
Approximate Net Size
Unit/Box


BX00711057
No
1.8mm
160cm
2x4.5cm
5
BX00711168
Yes
1.8mm
160cm
2x4.5cm
5
Roth Net® Mini Retriever: Foreign Body Retrieval

Roth Net® Retrievers - A Snapshot of Our Portfolio

Foreign Body Management - Dr. Bennett Roth – DDW 2012
INSTRUCTIONS FOR USE

Document #
Document Title

730608

ROTH NET MINI IFU

731863

ROTH NET MINI (STERILE) IFU
SELL SHEET

Document #
Document Title

760449

FOREIGN BODY EQUIPMENT CHECKLIST

760450

FOREIGN BODY DREAM TEAM INTL

761372

FOREIGN BODY DREAM TEAM

761644

ROTH NET INFOGRAPHIC
ARTICLE ABSTRACT

Document #
Document Title

760489

ENDOSCOPIC RETRIEVAL DEVICES

760490

FINANCIAL IMPACT OF INTENTIONAL SWALLOWING OF FOREIGN BODIES
WALL CHARTS

Document #
Document Title

760996

FOREIGN BODY INFOGRAPHIC

761373

FOREIGN BODY MANAGEMENT REFERENCE CHART INFOGRAPHIC

761374

ROTH NET RETRIEVER PROCEDURE CHART

761622

FOREIGN BODY MANAGEMENT PORTFOLIO REFERENCE CHART
BROCHURE

Document #
Document Title

761051

SMALL CHANNEL DEVICES & ACCESSORIES BROCHURE

761629

ROTH NET RETRIEVAL DEVICES - INTL