The Torrent irrigation pump is designed to be durable and provide consistent flow rates during endoscopic procedures when used in conjunction with the Torrent® irrigation tubing and single-use Torrent® scope connector.
How the Torrent Irrigation Pump Works
The Torrent irrigation pump is an endoscopic irrigation pump designed to provide clinicians with a hands-free option for irrigation during an endoscopic procedure. The Torrent irrigation pump features a replaceable pump head with built-in safety feature. When opened, this feature will not allow rollers to turn so the user can safely insert or remove tubing.
Why the Torrent Irrigation Pump?
The Torrent irrigation pump offers:
A small, compact design for placement and transport on procedure carts and booms
An adjustable flow rate knob allowing clinicians to increase/decrease flow based on type of procedure
In addition, the Torrent Irrigation Pump is compatible with the Torrent irrigation system which features: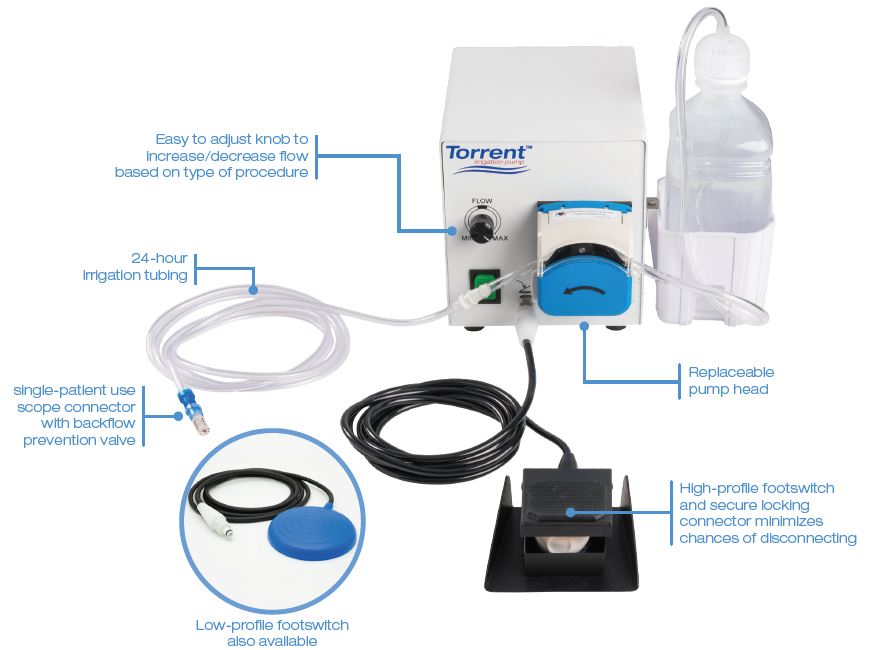 Product Number
Description
Unit/Box

BX00711569
Torrent™ Irrigation Pump Includes: High Profile Footswitch (EA00711568), Power Cord, Water Bottle Holder (EA00711599), Operating & Maintenance Manual
1
EA00711565
Low Profile Footswitch
1
EA00711568
High Profile Footswitch
1
EA00711599
Water Bottle Holder
1
Torrent™ irrigation pump setup video

Torrent™ irrigation pump functional test
INSTRUCTIONS FOR USE

Document #
Document Title

731693

TORRENT IRRIGATION TUBING IFU

731696

TORRENT SCOPE CONNECTOR IFU

731827

AQUASHIELD SYSTEM IFU

731966

AQUASHIELD SYSTEM - OLYMPUS IFU

732292

TORRENT IRRIGATION PUMP OPERATING AND MAINTENANCE MANUAL
BROCHURE

Document #
Document Title

760923

IRRIGATION BROCHURE

761577

GI CAPITAL SOLUTIONS BROCHURE