We build each STERIS Conveyor System (SCS) with individual modules so your system will be configured to match your space - and your workload - perfectly. From a simple load/unload system feeding one washer to a fully automated system that links several single - and/or multi-chamber washers in a self-contained reprocessing loop, the SCS's flexibility is unparalleled.
barcode-initiated cycle start enhances productivity
automated system reduces manual handling (less touches)
excellent ergonomics reduces lifting
flexible design can be extended to fit future growth
unimpeded accessibility for ease of cleaning and maintenance
The STERIS Conveyor System (SCS) simplifies the loading and unloading of your Reliance® Washer/ Disinfectors. The rack slides effortlessly from the transfer cart onto the conveyor system without requiring your staff to do any heavy lifting. At this point, our fully automated solution takes over and automatically selects the right washer to feed allowing your staff to return to productive work. As soon as the cycle is finished the rack is automatically unloaded from the washer and the next rack in line is fed into the washer. Thanks to the barcode-initiated cycle start, your staff members don't need to stop what they're doing to program the washer – it automatically selects the appropriate cycle based on information stored in the rack barcode.
Choose the right configuration to meet your needs – from the simple load/unload to the fully automated system, each SCS provides efficient transport and ergonomic handling of your workload to enhance productivity – from small to large volumes of surgical instruments.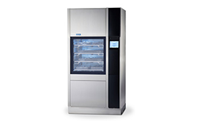 By choosing genuine STERIS OEM replacement parts, you can be assured that each and every part is chosen based on the highest quality standards to ensure your equipment functions at its best. STERIS's OEM replacement parts promote compliance with regulatory requirements and organizational standards on equipment maintenance and repair.
OPERATORS MANUAL

Document #
Document Title

14029171

SCS CONVEYOR SYSTEM - OPERATOR MANUAL (SV)

P920506634

OPERATOR MANUAL SCS CONVEYOR SYSTEM / SCS-L CONVEYOR SYSTEM
SELL SHEET

Document #
Document Title

M2994CN-S

SCS CONVEYOR SYSTEM-CHINESE-SIMPLIFIED

M2994JA

SCS CONVEYOR SYSTEM-JAPANESE
BROCHURE

Document #
Document Title

M3433EN

STERIS SCS CONVEYOR SYSTEM - THE FLEXIBILITY TO MEET YOUR WORKLOAD

M3433EN-CA

STERIS SCS CONVEYOR SYSTEM - THE FLEXIBILITY TO MEET YOUR WORKLOAD

M3433FR

STERIS SCS CONVEYOR SYSTEM - THE FLEXIBILITY TO MEET YOUR WORKLOAD

M3755EN

WHOLE SOLUTION BROCHURE - SPD - SHORT VERSION

M4015EN

AMSCO WASHERS/DISINFECTORS- FAMILY BROCHURE