Decontamination Sinks
STERIS's Decontamination Sinks are designed to streamline workflow and increase compliance in reprocessing departments. Each decontamination sink promotes compliance with all of the tools required to safely and effectively manually clean surgical instruments. The stainless steel decontamination sinks are available in various configurations and with height-adjustable options to suit staff's ergonomic needs.
REQUEST A QUOTE OR INFORMATION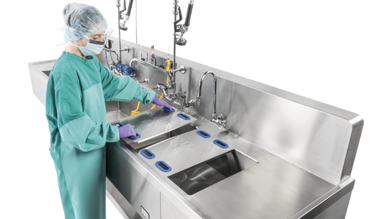 Easily wash longer tools, such as laparoscopic and robotic instruments, in 30" length bays
Increased ergonomics with height adjustable configurations
Customizable accessory placement with standard magnetic backsplash
Safe and effective manual instrument cleaning through standard features such as air and water pistols, two overmount sprayers, etched sink bay markings and pure water faucet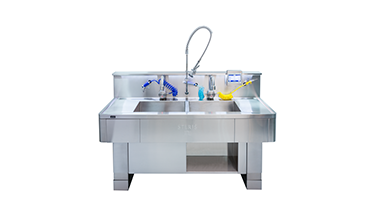 Continuous temperature monitoring and recording
Sonic Klenz* bay provides post-cleaning consistent performance with automated degas cycle
Electronic height-adjusted counter promotes ergonomics
Aqua Klenz* pre-cleaning bay designed to agitate and loosen soils
*Not all features available on all models.