This product is no longer available for purchase and has been replaced with a newer model.
Learn about the V-PRO® maX Low Temperature Sterilization System.
The AMSCO V-PRO 1 Low Temperature Sterilization System is intended for use in the terminal sterilization of properly prepared (cleaned, rinsed and dried) metal and nonmetal medical devices used in Healthcare Facilities. The STERIS developed low pressure and low temperature Sterilization Cycles are suitable for sterilizing medical devices sensitive to heat and moisture.
The V-PRO 1 Low Temperature Sterilization System is specifically designed to only process goods using vaporized hydrogen peroxide under vacuum conditions. The process is fully automated, is compatible with a broad range of materials and has rapid Sterilization Cycle times. There are no toxic by-products created by the Sterilization Cycle - only water vapor and oxygen are produced.
The system utilizes specially designed, disposable, multi-use cartridges (available separately) containing VAPROX™ HC Sterilant and is available in either a single door (freestanding or recessed) or double door configuration.
Device Compatibility Matrix

Confirm that your medical devices and accessories are compatible for processing with our Low Temperature Systems.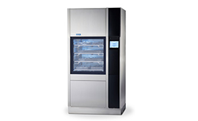 VIEW SERVICE PARTS
By choosing genuine STERIS OEM replacement parts, you can be assured that each and every part is chosen based on the highest quality standards to ensure your equipment functions at its best. STERIS's OEM replacement parts promote compliance with regulatory requirements and organizational standards on equipment maintenance and repair.