Lighting designed for patient and caregiver with low profile, high quality illumination for critical care and labor and delivery settings.
The AMSCO® LD202 In-Ceiling Lighting System low profile style helps patients feel more comfortable while the high-quality illumination provides the caregiver with the ability to adjust the light intensity level for clinical care needs.
Provides the ideal intensity and fixed spot for exam, suturing or minor procedures
Cool, color-corrected lighting renders skin tones and textures more accurately
Easy-to-use wall-mounted controls allow you to focus on the patient
Precise positioning – quickly and easily – with independent controls for each fixture
Recessed fixtures provide an uncluttered environment
| | |
| --- | --- |
| Intensity | 43,000 lux (single); 86,000 lux (dual) |
| Beam angulation | 30° up/down and right/left |
| Pattern size | 10" (254 mm) |
| Color temperature | 4400K |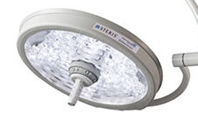 VIEW SERVICE PARTS
By choosing genuine STERIS OEM replacement parts, you can be assured that each and every part is chosen based on the highest quality standards to ensure your equipment functions at its best. STERIS's OEM replacement parts promote compliance with regulatory requirements and organizational standards on equipment maintenance and repair.
Service Manual