The evacuation and debulking of blood, blood clots, semi-solid stool, and fluid has been reported to be important for an effective diagnosis. The process of clearing/cleaning the area can be difficult and time consuming, potentially increasing patient risk due to extended procedure times and sedation requirements. Utilizing the endoscopic controls for suction and irrigation is an established practice during GI endoscopy procedures and based on user familiarity and training, is typically used throughout routine procedures. However, when there are particularly challenging circumstances (i.e. blood clots or poorly prepped colons), the volume and consistency of the material to be removed results in a lengthier, arduous process.
The BioVac device has been designed to address these challenging circumstances. The BioVac device bypasses the endoscope suction valve, internal working mechanisms of the endoscope (that include flow restrictions and internal venting), and the endoscopic umbilical cord. The suction power delivered to the end of the endoscopic channel is markedly increased, improving suction efficiency and effectiveness.
How the BioVac Direct Suction Device Works
The BioVac suction device is an endoscopy fluid management system designed to address the inadequacies of current methods of evacuating blood and blood clots from the GI tract, particularly in emergency situations. Designed to suction hard-to-remove, viscous materials, the BioVac endoscopic suction device bypasses the scope control head, alleviating intraprocedural clogging of the scope which may help physicians to locate and treat the bleeding site more quickly.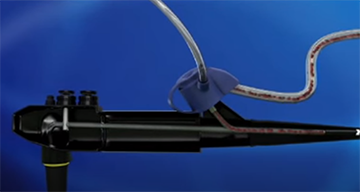 With the BioVac device, fluid is suctioned through the biopsy port,
bypassing the scope control head and enabling quicker evacuation.
Our testing has demonstrated that a 24 to 40% reduction in evacuation time when using the BioVac direct suction device vs. standard endoscope suction.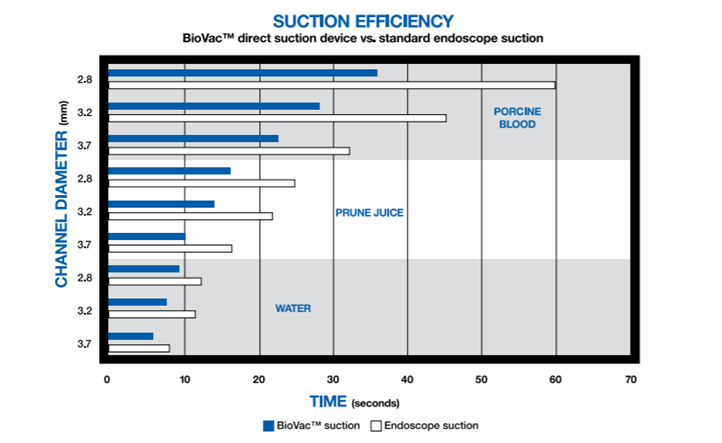 Why the BioVac Direct Suction Device?
The BioVac endoscopic suction device offers:
Enhanced suction that enables quick, powerful evacuation
The ability to irrigate as much as desired – instilling large volumes* of fluid is no longer a nuisance
Direct visualization to target cleansing and evacuation sites, allowing clinicians to focus on the patient's diagnosis and/or treatment
Instrument access, enabling the clinician to utilize suction capabilities as well as provide therapeutic treatment via the accessory channel
Assistance in dealing with GI bleeds, colonic decompression, poor prep or retained residual food cases
Compatibility with Olympus, Pentax and Fujifilm endoscopes
Browse a complete Item Number list and easily reorder BioVac® Direct Suction Device products on Shop STERIS.
Product Number
Description
Suction Tubing
Irrigation Line Length
Y-Port
Unit/Box

This product has been manufactured not to include latex.

BX00711511
Pentax
244cm
61cm
No
5
BX00711512
Olympus/Fujinon (G5 Series And Newer)
244cm
61cm
No
5
BX00711513
Olympus/Fujinon (G5 Series And Newer)
244cm
61cm
Yes
5
BioVac® device: how it works

BioVac® device: components (1511/1512)

BioVac® device: components (1513)

BioVac® device: setup (1511/1512)

BioVac® device: setup (1511/1512)

BioVac® device: operation - irrigation

BioVac® device: operation - suction

BioVac® device: operation - y-port (1513)

BioVac® device: poorly prepped colon
INSTRUCTIONS FOR USE

Document #
Document Title

731348

BIOVAC IFU

731412

BIOVAC IFU - JAPANESE
QUICK START GUIDE

Document #
Document Title

731381

BIOVAC QRG

731455

BIOVAC QUICK REFERENCE GUIDE

731468

BIOVAC QRG -FUJIFILM

760686

BIOVAC QRG

760945

BIOVAC QUICK REFERENCE GUIDE
ENDOSCOPY WHITE PAPER

Document #
Document Title

760279

BIOVAC WHITE PAPER
SELL SHEET

Document #
Document Title

760410

BIOVAC INTL SS

761889

BLEED BOX US SPEC SHEET
CASE STUDY

Document #
Document Title

760510

BIOVAC MISHKIN CASE REPORT 01

760510

BIOVAC MISHKIN CASE REPORT 02

760860

BIOVAC ARTICLE ABSTRACT
BROCHURE

Document #
Document Title

761852

HEMOSTASIS BROCHURE

761891

HEMOSTASIS INTL BROCHURE