People & Communities
STERIS wouldn't be where it is today without our incredible people – over 16,000 strong and growing! That's why we share in our success together by rewarding employees for their hard work. Our goal is to hire people who are in it for the long run. We accomplish this by providing competitive salaries, healthcare benefits, tuition assistance, paid time off, holidays, annual merit, and incentive plans.
Life at STERIS: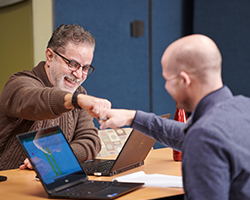 STERIS strives to protect our people's jobs whenever possible. We abhor layoffs, and even the smallest of layoffs must proceed through our normal chain of command, including final approval by executive management.
STERIS cares deeply about our people and their engagement. The Company routinely looks to capture new ideas as well as other opportunities for improvement by soliciting feedback from our teams. Every 12-18 months, STERIS encourages all employees to participate in our Employee Engagement Survey. We work to take their input and continually improve. In 2020, 89% of our people completed the survey. We also work to make higher education more affordable for our people. Through the STERIS Founders Memorial Scholarship program, we have provided over $1.5 million in post-high school education scholarship funds to children of STERIS employees.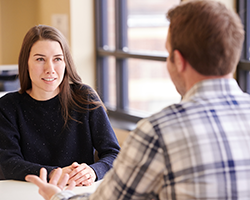 STERIS University is an asset for employees and Customers. STERIS is committed to educating and developing our people. This dedication to developing and retaining the best talent in the industry allows STERIS to have a positive global impact on the healthcare and life science industries and the communities we serve. STERIS employees benefit from the Company's web-based learning management system, STERIS University. Over half of our employees complete at least one of the many voluntary course offerings per year. STERIS University also offers Customers the opportunity to obtain ongoing Continuing Education credits (CEs) to help healthcare professionals stay abreast of current standards and research in the fields in which they practice.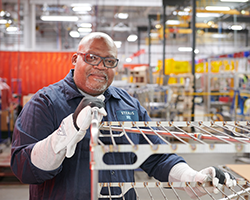 We work to be a good corporate citizen. STERIS has a long history of commitment to making a difference in the communities where we operate. We focus on local programs that enhance the quality of life through STERIS – and employee-funded financial support. Many of our people also apply their business expertise as volunteers, board members, and leaders of community organizations.
STERIS also aids communities where we have people working that have been adversely affected by natural disasters. The Company and the STERIS Foundation have financially helped emergency responders and aid organizations do what they do best – save lives. We also work directly with our Customers to assist them in restoring the use of their procedural spaces and sterile processing operations, as hospitals within and around the disaster zone need to be functional to render urgently needed care.
As described in our Human Rights Policy, we do not discriminate on the basis of an individual's race, color, national origin, religion, sex, age, disability, sexual orientation, gender identity, or genetic information.
Resources
Human Rights and Labor Rights Policy