People & Communities
STERIS wouldn't be where it is today without our incredible people – over 16,000 strong and growing! We believe unity of purpose and teamwork enables us to do far more together than we could individually. We draw strength from each other and encourage communication with fairness, candor, respect, and courage. Our collaboration turns interesting ideas into great products and services for our Customers.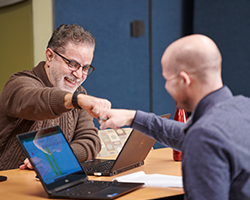 STERIS strives to protect our people's jobs whenever possible. Even the smallest of layoffs must proceed through our normal chain of command, including final approval by executive management.
Our ideal team is engaged, diverse, inclusive and talented, and we create programs and policies in support of these goals. We recruit the best available people who are aligned with and embody our core Values. We are committed to equality, assessing candidates based on qualifications. We believe that our success is dependent on attracting and retaining people from a cross-section of our communities who understand their markets, and in doing so we continue to create a competitive advantage for STERIS.
Our success depends on our ability to attract and retain talented employees, and we intend to do so without regard to race, color, social or economic status, religion, national origin, marital status, age, veteran status, sexual orientation, gender identity, or any protected status. It is the policy of the Company to make all decisions regarding employment, including hiring, compensation, training, promotions, transfers, or lay-offs, based on the job requirements and skills of the individuals and utilizing the principle of equal employment opportunity without discrimination. STERIS has deployed a number of training programs, including Anti-Harassment, Creating an Inclusive Environment and Unconscious Bias. In 2021, we released baseline information on our Associates broken down by gender and race in our 10K report.
We care deeply about our people and their engagement. We believe that engaged employees are more productive, innovative, and satisfied in their work. Every year, we encourage all employees to participate in our Employee Engagement Survey. This process is valuable in helping us recognize things we do well and foster an open conversation about how we can make STERIS an even better place to work. In 2021, we are pleased to report that 89% of our people completed the survey, and the fourteen principal factors that we measure all improved since 2020 and have generally for a decade. We also work to make higher education more affordable for our people through tuition reimbursement and the STERIS Founders Memorial Scholarship program, which provides post-high school education scholarship funds to children of STERIS employees.
We are committed to supporting the development of our people. Employees benefit from hands-on continuous improvement (Lean) training, a web-based learning management system, and STERIS University. In addition, we provide annual Code of Conduct training, Harassment Prevention training and other key, required training at all levels of the Company. In our manufacturing and service organizations, we provide training for employees who do not have the appropriate experience or background. This training is conducted through a combination of hands-on and module-based training. Our focus is on safety, quality and consistency in approach and outcome. As a Lean organization, we have created standard work instructions for many processes and refresher courses are offered regularly for existing employees. Where possible, we look to provide cross-training for employees looking to expand their knowledge or grow into new roles. We encourage all employees to create individual development plans and provide the support to assist in that effort.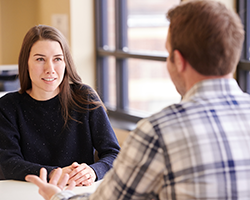 COVID-19 Pandemic. Early in calendar year 2020, we implemented several measures to help protect our workforce during the COVID-19 pandemic, including the following:
Implemented work from home for those employees whose role supported it and put programs in place to support those who did not have the flexibility to work remotely.
Implemented paid furlough at 100% salary for all employees underutilized due to the pandemic.
In the U.S., provided pandemic-related paid-time-off for factory and field-based personnel who could not work from home and supported COVID vaccination efforts by offering paid-time-off for vaccinations and arranging on-site vaccination clinics where available and supported by employee interest.
Implemented additional cleaning protocols in all facilities, limited travel, and discontinued in person meetings where practical.
Provided additional personal protective equipment for field-based personnel supporting critical care environments.
Regularly communicated with employees with regional and global updates.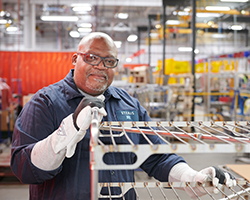 We work to be a good corporate citizen. STERIS has a long history of commitment to making a difference in the communities where we operate. We focus on local programs that enhance the quality of life through STERIS – and employee-funded financial support. Many of our people also apply their business expertise as volunteers, board members, and leaders of community organizations.
STERIS also aids communities where we have people working that have been adversely affected by natural disasters, particularly our employees who are directly impacted. The Company and the STERIS Foundation have financially helped emergency responders and aid organizations do what they do best – save lives. We also work directly with our Customers to assist them in restoring the use of their procedural spaces and sterile processing operations, as hospitals within and around the disaster zone need to be functional to render urgently needed care.
As described in our Human Rights Policy, we do not discriminate on the basis of an individual's race, color, national origin, religion, sex, age, disability, sexual orientation, gender identity, or genetic information.
Resources
Diversity, Equity & Inclusion Commitment
Human Rights and Labor Rights Policy