Health & Safety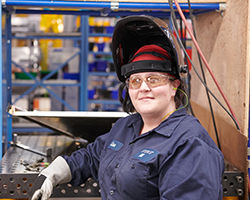 For STERIS, fulfilling our MISSION TO CREATE A HEALTHIER AND SAFER WORLD means not only creating an environment focused on the health and safety of our people, but on the communities and environments in which we operate.
STERIS has created a culture focused on continuous improvement, including the health and safety of its employees, Customers and the communities that we serve. Meaningful environmental health and safety (EHS) performance promotes sustainable business practices, and as such, STERIS considers it to be an integral part of the business decision-making process.
Safety at STERIS
STERIS is proud of its history as a safe place to work, and continues to work to make sure it stays that way. We have programs in place to ensure ALL facilities, including those recently acquired, work toward OSHA world-class standards for injury incidents. For Fiscal 2021, our Days Away From Work Rate (DAFW) was 0.37. Reinforcing the importance of safety, most widely-attended Company meetings begin with a safety message, and we provide weekly safety tips to help employees stay safe both while on and off the job. For our road warriors, a driver safety program is in place for all STERIS North American fleet drivers and will be expanded to encompass all STERIS fleet drivers around the world. We have safety improvement goals in all of our Lean events and continuously look to improve safety.
The OSHA Voluntary Protection Program (VPP) Star Program is designed for exemplary worksites with comprehensive, successful safety and health management systems. Companies in the VPP Star Program have achieved injury and illness rates at or below the national average of their respective industries. STERIS is proud to operate 11 U.S. facilities that have earned VPP Star certification. The balance of STERIS locations continues to work toward this achievement.
Learn more about STERIS Health, Safety & Environment
resources