ProConnect® Technical Support Services connects your equipment to STERIS field technicians, giving real-time data on your device history and performance to better assist in the maintenance and repair of your equipment.
Equipment alarms –

Be alerted when an equipment triggers an alarm.
Determine the appropriate course of action based on insights created from your equipment performance and alarm history.
Increase STERIS technicians' ability to immediately service your equipment due to advanced visibility of your equipment alarms.

Remote troubleshooting – STERIS Service Experts are on call to help instruct your staff with remote diagnosis using your device alarm history and cycle tapes.
Biomed support – Service history allows biomeds to analyze equipment performance trends.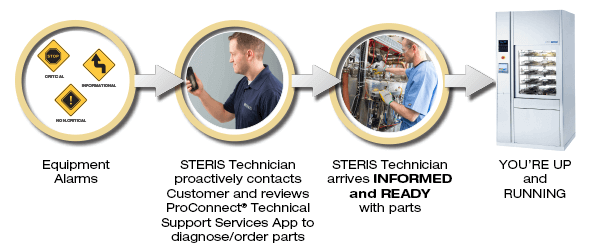 The security of data and IT networks at healthcare facilities is a vital part of compliance and data protection. ProConnect Technical Support Services ensures that data is encrypted as it goes from your device to STERIS Services and back to your desktop.
Proactive security measures – the STERIS network is protected by intrusion prevention systems, anti-virus programs and firewalls to ensure the security of the infrastructure and protection of data.
Data collection – ProConnect® Technical Support Services only collects equipment performance and operational data, never HIPAA or patient-related information.
Implementation – ProConnect® Technical Support Services' server only needs outgoing access to the STERIS public IP address to transmit and collect equipment data. Users can login to ProConnect®Technical Support Services to view the data using any current browser.