Sterile processing departments are challenged with achieving higher productivity levels than ever before. As a result, Customers need a powerful washing and disinfection system that can process high volumes of medical devices, utensils and delicate instruments quickly, efficiently and safely. Customers also need a system that is simple to operate and maintain.
Introducing the Reliance Vision Single-chamber Washer/Disinfector, a total integrated washing solution from STERIS. Featuring the newest innovations in the single-chamber market, the Reliance Vision combines the latest technology with a groundbreaking design to provide maximum throughput and unparalleled performance.
New High-Performance Design Features
Productivity & Connectivity
Faster, optimized cycles
Touch screen, PC controls can interface with instrument tracking and OR scheduling
Longer spray arms and outward spraying nozzles for improved coverage
Large capacity for processing high volumes of medical devices, utensils and delicate instruments
Improved drying system
Integrated flow meters provide verification of chemistry injection rates, even down to the Prolystica® Ultra Concentrate levels
Quality
Easy-to-clean spray arms; simple assembly
Self-flushing centrifugal filter system prevents spray arms from clogging and helps minimize maintenance
PC control is remote monitoring enabled allowing proactive/predictive repair for improved system uptime
Racks are capable of lumen flushing
Safety
Ergonomic design enhances operator safety
Immediate-level disinfection phase helps reduce the risk of infection for patients and staff
Cool-touch handles on racks for safe handling of racks once they exit the washer
Environmentally friendly system uses less water, detergent and utilities
Electronic Record Management with ConnectAssure™ Technology
Seamlessly connect and get immediate results from your Reliance Vision Single Chamber Washer/Disinfector with ConnectAssure Technology. Whether data is sent to your facility's tracking system or the ConnectAssure application, your cycle information is available with the click of a mouse for essential compliance reporting.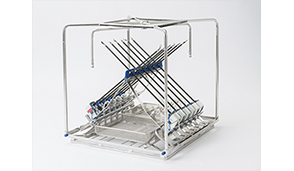 Instruments should be reprocessed according to the latest Reprocessing Instructions from Intuitive Surgical prior to placement in the Robotic Rack.
The Robotic Rack is used to hold daVinci® Xi EndoWrist®instruments and staplers, while they are being processed in Reliance® Vision® Single Chamber Washer/Disinfectors. Instruments should be manually cleaned according to the latest Reprocessing Instructions from Intuitive Surgical before being placed in the Robotic Rack.
How the Robotic Rack Works
The rack design facilitates total thermal disinfection coverage of the manually cleaned instruments through integrated flush ports for daVinci EndoWrist instruments and accessories. The washer's single level rotating spray arm system provides high impingement to the instruments. The rack also features unique spray arms to provide coverage to EndoWrist tips.
Why the Robotic Rack?
Productivity – Holds up to twelve (12) daVinci EndoWrist (8 mm Single Site, 5 mm and 8 mm Xi) and four (4) daVinci Xi staplers per cycle
Flexibility – Adjustable flush ports accommodate Xi or other EndoWrist instruments within each device holder. Includes two (2) accessory trays for added convenience.
Note: daVinci® and EndoWrist® are registered trademarks of Intuitive Surgical®, Inc.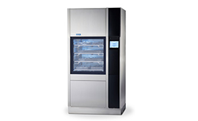 VIEW SERVICE PARTS
By choosing genuine STERIS OEM replacement parts, you can be assured that each and every part is chosen based on the highest quality standards to ensure your equipment functions at its best. STERIS's OEM replacement parts promote compliance with regulatory requirements and organizational standards on equipment maintenance and repair.
BROCHURE

Document #
Document Title

M4397EN

HOW TO: MEETING YOUR SUSTAINABILITY GOALS WITH STERIS EQUIPMENT

M3448EN

RELIANCE SINGLE CHAMBER WASHER/DISFECTOR SERVICE TIPS

M4015EN

AMSCO WASHERS/DISINFECTORS- FAMILY BROCHURE
SELL SHEET

Document #
Document Title

M3740EN

WATER TREATMENT SYSTEMS FROM STERIS (AMERIWATER)-EQUIPMENT SIZING WORKSHEET

M3283EN

AMSCO VISION SC WASHER SELL SHEET

M4383EN

A0 MADE SIMPLY SELL SHEET
TECH DATA

Document #
Document Title

SD880

RELIANCE VISION SINGLE-CHAMBER WASHER/DISINFECTOR

SD867

ACCESSORIES FOR WASHER/DISINFECTORS
TECHNICAL MONOGRAPH

Document #
Document Title

M3337EN

RELIANCE VISION SINGLE CHAMBER WASHER/DISINFECTOR TECHNICAL DATA MONOGRAPH
TECHNICAL TIPS

Document #
Document Title

M3979EN

SAMPLE PROCEDURES-CLEANING AND DESCALING THE STERIS RELIANCE VISION SINGLE-CHAMBER WASHER/DISINFECTOR